Business Plan for Investors
Bank/SBA Business Plan
Strategic/Operational Business Plan
L1 Visa Business Plan
E1 Treaty Trader Visa Business Plan
E2 Treaty Investor Visa Business Plan
EB-1 Business Plan
EB-2 NIW Business Plan
EB-5 Business Plan
Innovator Founder Visa Business Plan
Start-Up Visa Business Plan
Expansion Worker Visa Business Plan
Manitoba MPNP Visa Business Plan
Nova Scotia NSNP Visa Business Plan
British Columbia BC PNP Visa Business Plan
Self-Employed Visa Business Plan
OINP Entrepreneur Stream Business Plan
LMIA Owner Operator Business Plan
ICT Work Permit Business Plan
LMIA Mobility Program – C11 Entrepreneur Business Plan
USMCA (ex-NAFTA) Business Plan
Franchise Business Plan
Landlord business plan
Nonprofit Start-Up Business Plan
USDA Business Plan
Cannabis business plan
Ecommerce business plan
Online boutique business plan
Mobile application business plan
Daycare business plan
Restaurant business plan
Food delivery business plan
Real estate business plan
Business Continuity Plan
Buy Side Due Diligence Services
ICO whitepaper
ICO consulting services
Confidential Information Memorandum
Private Placement Memorandum
Feasibility study
How it works
Business Plan Examples
Cupcake Business Plan
MAR.20, 2023
1. Business Plan For Starting Your Own Cupcake Bakery
This business plan will help you to focus your ideas and determine the viability of your cupcake bakery. It will outline the resources, market research, and financial projections you will need to consider before launching your business. Additionally, it will provide you with a roadmap to help you stay on track as you work to make your dream a reality.
The business plan will help you to identify potential obstacles and to develop strategies to overcome these obstacles. It will also help you estimate start-up costs, determine what type of equipment you need, and estimate the overall profitability of your business. Finally, the plan will provide you with a platform to communicate your vision to potential investors, lenders, and customers.
This cupcake business plan can also work as a Bakery Business Plan and for various other businesses.
2. Executive Summary
The business.
The business has been named "Cupcakes and More," and it will be located in a commercial area of the city. The business will specialize in creating custom cupcakes for special occasions, such as birthdays, baby showers, and weddings. The cupcakes will be made with fresh, high-quality ingredients and will be offered in a wide range of flavors and sizes. The business will also offer a range of creative cupcake designs to meet customers' needs. The business will also offer delivery services to local customers.
Business Target
The primary target market for Cupcakes and More will be local customers, including individuals, businesses, and organizations. The business will focus on providing high-quality cupcakes for special occasions and events. The business will also target corporate clients who may be interested in purchasing custom cupcakes for their employees or customers. The business will also focus on providing creative and unique designs for customers to ensure that their cupcakes stand out from the crowd.
3. Company Summary
Cupcakes and More is a small bakery business specializing in delicious cupcakes. Our specialty is delicious cupcakes made from scratch in various flavors that are sure to please any sweet tooth. We will also offer a selection of other baked goods, such as cakes, cookies, and muffins. Our shop will offer a cozy, inviting atmosphere and a friendly, helpful staff.
Company Owner
Cupcakes and More will be owned and operated by Joe Brown, a passionate baker with many years of experience in the baking industry. He is passionate about creating delicious treats and is excited to bring his talents to Cupcakes and More.
Why the Cupcake Shop Is Being Started
The Cupcake Shop is starting to provide a delicious, unique, and affordable treatment to the community. We believe that cupcakes are a delicious and fun way to bring people together, and we are excited to offer our customers a way to celebrate special occasions or just enjoy a sweet treat.
How The Cupcake Shop Will Be Started
The Cupcake Shop will be started by renting a commercial kitchen space, purchasing necessary equipment, and stocking our inventory of ingredients. We will also need to obtain the necessary licenses and permits and create a website and social media accounts. We will also need to hire a staff of bakers, decorators, and customer service representatives. Finally, we must create a marketing plan to promote the business.
Joe Brown helped the financial experts how to write a cupcake business plan and estimates the cupcake shop's assets, loans, and startup costs.
It is possible to establish a cupcake business plan and how to start by meeting the following requirements in the Confectionery Shop Business Plan : expenses, assets, startup funds, required funding, assets, liabilities, planned investments, capital, liabilities, and funding.
4. Products
At Delicious Cupcakes, we believe every cupcake should be as unique and delicious as you are!
Our delicious cupcakes have the highest quality ingredients and will tantalize your taste buds. Our cupcakes are freshly made with no artificial ingredients or preservatives and come in various delightful flavors. Our cupcakes are perfect for any special occasion, from birthdays and showers to corporate events and weddings. Here are some of the amazing products we offer:
Cupcakes in a Variety of Flavors: Including traditional flavors such as vanilla, chocolate, and strawberry, as well as unique and trendy flavors like salted caramel, cookies & cream, and lemon meringue.
Custom Cupcakes for Special Occasions: Cupcakes that can be personalized with custom decorations and flavors for birthdays, anniversaries, and other special occasions.
Cupcake Cakes: Tiered cakes made of cupcakes and decorated with customizable designs and mini cupcakes from home.
Cake Pops and Cookies: In the Cookie Company Business Plan , Bite-sized treats can be included with cupcakes or purchased separately.
Cupcake Toppings: In the cupcake room, an array of cupcake toppings such as sprinkles, candies, nuts, and more
Giftings: Cupcakes packaged in special gift boxes and gift baskets
Special Shape Cupcakes: Cupcakes in special shapes and sizes to meet customer needs
Gourmet Cupcakes: Gourmet cupcakes with unique ingredients and flavor combinations
Gluten-Free Cupcakes: Cupcakes crafted without gluten for those with dietary restrictions.
5. Marketing Analysis
Excellent work.
excellent work, competent advice. Alex is very friendly, great communication. 100% I recommend CGS capital. Thank you so much for your hard work!
The cupcake business plan sample industry is experiencing steady growth in the United States. According to Nielsen, sales of cupcake products grew over 10% in the last two years, with the majority of the growth occurring in the convenience store channel. This trend indicates that consumers increasingly purchase cupcakes as a snack and dessert option rather than baking them at home.
Market Trends
The cupcake market is expected to continue to grow over the next several years. Consumers are becoming increasingly health-conscious and are seeking healthier options. This has led to a rise in organic and gluten-free cupcakes, flavors, and toppings. Additionally, the market is becoming more competitive with the entrance of large chain bakeries and cupcake shops.
Marketing Segmentation
The cupcake/cake business plan market is segmented into three distinct demographic groups. The primary target demographic is young adults (ages 18-34), the same as the Cannabis Edibles Business Plan . This group is often on the go and looking for convenient snack options. The secondary target demographic is families with children. These consumers want fun, creative, and affordable treats for their kids. The third demographic is seniors (ages 55+). These customers often look for nostalgic treats like classic flavors and simple designs.
The primary target market for a cupcake business plan example should be young adults and families. These demographics are likelier to purchase cupcakes regularly, making them ideal customers. Additionally, targeting special occasions such as birthdays, weddings, and other celebrations can benefit businesses as customers are more likely to purchase cupcakes for these occasions.
Product Pricing
The pricing of the cupcake products will be based on the cost of ingredients, labor, and overhead costs. The prices will be competitive with other cupcake businesses in the area. Specialty flavors and larger cupcake sizes may be priced slightly higher.
6. Marketing Plan For Cupcake Business
Competitive analysis.
The cupcake business will face competition from other local bakeries and cupcake shops. The most significant competition will come from larger, established bakeries and cupcake shops that have a proven track record and a loyal customer base. Additionally, we will face competition from local stores that offer cupcakes and other baked goods.
Sales Strategy
Product Strategy: Cupcakes are a popular and delicious treat that is easy to prepare and can be customized to any theme or event. Our cupcakes are made from scratch using the highest quality ingredients and will come in various flavors, sizes, and decorations. We will offer seasonal flavors, decorations, and custom cupcakes for special occasions.
Pricing Strategy: Our pricing strategy will depend on the cupcake size, the number of cupcakes ordered, and any custom decorations or flavors. We will offer discounts for bulk orders, birthdays, and other special occasion orders.
Promotion Strategy: In the online cupcake business plan, we will promote our cupcakes through social media, word of mouth, email, and print advertising. We will also host cupcake-tasting events, cupcake café, giveaways, and other promotions to attract customers.
Distribution Strategy: We will offer local delivery and pickup options and ship our cupcakes to customers in other areas. We will also offer catering services for special events.
Sales Monthly
We anticipate that the monthly sales of our cupcakes will vary depending on the season and the number of special events that occur in the area. We anticipate a minimum of $10,000 in monthly sales during peak season.
Sales Yearly
We anticipate that our yearly sales will grow as we gain more customers and increase our reach. We anticipate that our yearly sales will exceed $100,000.
Sales Forecast
We anticipate that our sales will steadily increase over time as we build our customer base and increase our visibility in the local community. We will focus on increasing our marketing efforts and developing relationships with local businesses and organizations that can help to spread the word about our business. We anticipate that our sales will increase by at least 10% per year over the next 5 years.
7. Personnel Plan
The personnel plan for our cupcake business will offer a comprehensive guide to our organization's staffing needs and salary expectations. We will hire the right people with the right skills and experience to help us reach our goals. We will focus on creating a positive work environment and providing competitive salaries to ensure we attract and retain the best talent.
Company Staff
For our cupcake business, we plan to have the following staff:
Owner/Founder
Executive Chef
Sales and Marketing Manager
Administrative Assistant
Delivery Drivers
Average Salary of Employees
The average salary of employees in the cupcake business will depend on the roles, experience, and qualifications of the employees. The salary range typically starts at minimum wage and goes up to $25,000 or more for experienced employees.
8. Financial Plan For Cupcake Business
The financial plan section of a cupcake business plan is essential for potential investors and lenders. It includes an overview of the business's financial projections for the future, including budget projections for the first three years of operation.
Important Assumptions
Cupcake Business Plan's financial assumptions:
Financial strategies can, however, be affected by changes in the industry or regulatory environment.
Brake-even Analysis
The following chart shows the cupcake shop's costs:
Break-even analysis for each month
Projected Profit and Loss
The chart below shows the profit and loss for a cupcake business plan.
Profit Monthly
Profit Yearly
Gross Margin Monthly
Gross Margin Yearly
Projected Cash Flow
Cash flow projections for the cupcake shop are shown in this column diagram.
The following is a proforma cash flow statement with the total amount received, the total amount spent, and the general assumptions.
Projected Balance Sheet
For a cupcake business plan, assets, long-term liabilities, assets, and total liabilities are included in an estimated balance sheet.
Business Ratios
Cupcake business plan's ratios, ratio analysis, and total assets are shown.
Can owning a bakery make you rich? It is possible to make a good living from owning a bakery, but it is unlikely to make someone wealthy. It takes hard work, dedication, and good business management to be successful in the bakery business. Additionally, a bakery's success often depends on the location and the type of products being sold.
Do small bakeries make money? Yes, small bakeries can make money. Small bakeries can be very successful with the right ingredients, recipes, pricing, and marketing strategies. In addition, many small bakeries are able to offer personalized services and products that can help them stand out in the local market.
What are the best-selling cupcakes? The best-selling cupcakes typically depend on the region and bakery, but some of the most popular cupcakes include classic flavors like chocolate, vanilla, red velvet, carrot cake, and lemon. Other popular flavors include salted caramel, peanut butter and jelly, cookies and cream, and strawberry.
Download Cupcake business plan in PDF
OGSCapital's team has assisted thousands of entrepreneurs with top-rate business plan development, consultancy and analysis. They've helped thousands of SME owners secure more than $1.5 billion in funding, and they can do the same for you.
Add comment
E-mail is already registered on the site. Please use the Login form or enter another .
You entered an incorrect username or password
Comments (0)
mentioned in the press:
Search the site:
OGScapital website is not supported for your current browser. Please use:
Cupcake Business Plan Template
Written by Dave Lavinsky
Cupcake Business Plan
Over the past 20+ years, we have helped over 500 entrepreneurs and business owners create business plans to start and grow their cupcake companies.
If you're unfamiliar with creating a cupcake business plan, you may think creating one will be a time-consuming and frustrating process. For most entrepreneurs it is, but for you, it won't be since we're here to help. We have the experience, resources, and knowledge to help you create a great business plan.
In this article, you will learn some background information on why business planning is important. Then, you will learn how to write a cupcake business plan step-by-step so you can create your plan today.
Download our Ultimate Business Plan Template here >
What Is a Business Plan?
A business plan provides a snapshot of your cupcake business as it stands today, and lays out your growth plan for the next five years. It explains your business goals and your strategies for reaching them. It also includes market research to support your plans.
Why You Need a Business Plan
If you're looking to start a cupcake business or grow your existing cupcake company, you need a business plan. A business plan will help you raise funding, if needed, and plan out the growth of your cupcake business to improve your chances of success. Your cupcake business plan is a living document that should be updated annually as your company grows and changes.
Sources of Funding for Cupcake Businesses
With regards to funding, the main sources of funding for a cupcake business are personal savings, credit cards, bank loans, and angel investors. When it comes to bank loans, banks will want to review your business plan and gain confidence that you will be able to repay your loan and interest. To acquire this confidence, the loan officer will not only want to ensure that your financials are reasonable, but they will also want to see a professional plan. Such a plan will give them the confidence that you can successfully and professionally operate a business. Personal savings and bank loans are the most common funding paths for cupcake companies.
How to Write a Business Plan for a Cupcake Business
If you want to start a cupcake business or expand your current one, you need a business plan. The guide below details the necessary information for how to write each essential component of your cupcake business plan.
Executive Summary
Your executive summary provides an introduction to your business plan, but it is normally the last section you write because it provides a summary of each key section of your plan.
The goal of your executive summary is to quickly engage the reader. Explain to them the kind of cupcake business you are running and the status. For example, are you a startup, do you have a cupcake business that you would like to grow, or are you operating a chain of cupcake businesses?
Next, provide an overview of each of the subsequent sections of your plan.
Give a brief overview of the cupcake industry.
Discuss the type of cupcake business you are operating.
Detail your direct competitors. Give an overview of your target customers.
Provide a snapshot of your marketing strategy. Identify the key members of your team.
Offer an overview of your financial plan.
Company Overview
In your company overview, you will detail the type of cupcake business you are operating.
For example, you might specialize in one of the following types of cupcake businesses:
Home bakery: This type of cupcake business model involves making and selling cupcakes from home and is great for small operations just starting out.
Food Truck: This type of cupcake business has the advantage of being able to choose high traffic locations and can move from one event to another to attract a greater number of customers.
Counter Bakery: This type of cupcake business is great for providing customers with quick to-go orders of cupcakes.
Cafe: This type of cupcake business operates as a full food service establishment with customer seating and dining included.
In addition to explaining the type of cupcake business you will operate, the company overview needs to provide background on the business.
Include answers to questions such as:
When and why did you start the business?
What milestones have you achieved to date? Milestones could include the number of customers served, reaching $X amount in revenue, reaching X number of cupcakes sold, etc.
Your legal business Are you incorporated as an S-Corp? An LLC? A sole proprietorship? Explain your legal structure here.
Industry Analysis
In your industry or market analysis, you need to provide an overview of the cupcake industry.
While this may seem unnecessary, it serves multiple purposes.
First, researching the cupcake industry educates you. It helps you understand the market in which you are operating.
Secondly, market research can improve your marketing strategy, particularly if your analysis identifies market trends.
The third reason is to prove to readers that you are an expert in your industry. By conducting the research and presenting it in your plan, you achieve just that.
The following questions should be answered in the industry analysis section of your cupcake business plan:
How big is the cupcake industry (in dollars)?
Is the market declining or increasing?
Who are the key competitors in the market?
Who are the key suppliers in the market?
What trends are affecting the industry?
What is the industry's growth forecast over the next 5 – 10 years?
What is the relevant market size? That is, how big is the potential target market for your cupcake business? You can extrapolate such a figure by assessing the size of the market in the entire country and then applying that figure to your local population.
Customer Analysis
The customer analysis section of your cupcake business plan must detail the customers you serve and/or expect to serve.
The following are examples of customer segments: individuals, schools, families, and corporations.
As you can imagine, the customer segment(s) you choose will have a great impact on the type of cupcake business you operate. Clearly, individuals would respond to different marketing promotions than corporations, for example.
Try to break out your target customers in terms of their demographic and psychographic profiles. With regards to demographics, including a discussion of the ages, genders, locations, and income levels of the potential customers you seek to serve.
Psychographic profiles explain the wants and needs of your target customers. The more you can recognize and define these needs, the better you will do in attracting and retaining your customers.
Finish Your Cupcake Business Plan in 1 Day!
Don't you wish there was a faster, easier way to finish your business plan?
With Growthink's Ultimate Business Plan Template you can finish your plan in just 8 hours or less!
Competitive Analysis
Your competitive analysis should identify the indirect and direct competitors your business faces and then focus on the latter.
Direct competitors are other cupcake businesses.
Indirect competitors are other options that customers have to purchase from that aren't directly competing with your product or service. This includes other types of dessert shops, restaurants, grocery stores, and food trucks. You need to mention such competition as well.
For each such competitor, provide an overview of their business and document their strengths and weaknesses. Unless you once worked at your competitors' businesses, it will be impossible to know everything about them. But you should be able to find out key things about them such as
What types of customers do they serve?
What type of cupcake business are they?
What is their pricing (premium, low, etc.)?
What are they good at?
What are their weaknesses?
With regards to the last two questions, think about your answers from the customers' perspective. And don't be afraid to ask your competitors' customers what they like most and least about them.
The final part of your competitive analysis section is to document your areas of competitive advantage. For example:
Will you make it easier for your customers to acquire your products?
Will you offer products or services that your competition doesn't?
Will you provide better customer service?
Will you offer better pricing?
Think about ways you will outperform your competition and document them in this section of your plan.
Marketing Plan
Traditionally, a marketing plan includes the four P's: Product, Price, Place, and Promotion. For a cupcake business plan, your marketing strategy should include the following:
Product : In the product section, you should reiterate the type of cupcake company that you documented in your company overview. Then, detail the specific products or services you will be offering. For example, will you provide custom cupcake services, bulk options, cupcake kits, or other food and beverage choices like coffee and cookies?
Price : Document the prices you will offer and how they compare to your competitors. Essentially in the product and price sub-sections of your plan, you are presenting the products and/or services you offer and their prices.
Place : Place refers to the site of your cupcake company. Document where your company is situated and mention how the site will impact your success. For example, is your cupcake business located in a busy retail district, a business district, a standalone office, or purely online? Discuss how your site might be the ideal location for your customers.
Promotions : The final part of your cupcake marketing plan is where you will document how you will drive potential customers to your location(s). The following are some promotional methods you might consider:
Advertise in local papers, radio stations and/or magazines
Reach out to websites
Distribute flyers
Engage in email marketing
Advertise on social media platforms
Improve the SEO (search engine optimization) on your website for targeted keywords
Operations Plan
While the earlier sections of your business plan explained your goals, your operations plan describes how you will meet them. Your operations plan should have two distinct sections as follows.
Everyday short-term processes include all of the tasks involved in running your cupcake business, including answering calls, ordering ingredients, serving customers, cleaning up the shop, etc.
Long-term goals are the milestones you hope to achieve. These could include the dates when you expect to bake your Xth cupcake order, or when you hope to reach $X in revenue. It could also be when you expect to expand your cupcake business to a new city.
Management Team
To demonstrate your cupcake business' potential to succeed, a strong management team is essential. Highlight your key players' backgrounds, emphasizing those skills and experiences that prove their ability to grow a company.
Ideally, you and/or your team members have direct experience in managing cupcake businesses. If so, highlight this experience and expertise. But also highlight any experience that you think will help your business succeed.
If your team is lacking, consider assembling an advisory board. An advisory board would include 2 to 8 individuals who would act as mentors to your business. They would help answer questions and provide strategic guidance. If needed, look for advisory board members with experience in managing a cupcake business or successfully running a food truck.
Financial Plan
Your financial plan should include your 5-year financial statement broken out both monthly or quarterly for the first year and then annually. Your financial statements include your income statement, balance sheet, and cash flow statements.
Income Statement
An income statement is more commonly called a Profit and Loss statement or P&L. It shows your revenue and then subtracts your costs to show whether you turned a profit or not.
In developing your income statement, you need to devise assumptions. For example, will you make 10 batches of cupcakes per day, and charge extra for custom orders? And will sales grow by 2% or 10% per year? As you can imagine, your choice of assumptions will greatly impact the financial forecasts for your business. As much as possible, conduct research to try to root your assumptions in reality.
Balance Sheets
Balance sheets show your assets and liabilities. While balance sheets can include much information, try to simplify them to the key items you need to know about. For instance, if you spend $50,000 on building out your cupcake business, this will not give you immediate profits. Rather it is an asset that will hopefully help you generate profits for years to come. Likewise, if a lender writes you a check for $50,000, you don't need to pay it back immediately. Rather, that is a liability you will pay back over time.
Cash Flow Statement
Your cash flow statement will help determine how much money you need to start or grow your business, and ensure you never run out of money. What most entrepreneurs and business owners don't realize is that you can turn a profit but run out of money and go bankrupt.
When creating your Income Statement and Balance Sheets be sure to include several of the key costs needed in starting or growing a cupcake business:
Cost of equipment and office supplies
Payroll or salaries paid to staff
Business insurance
Other start-up expenses (if you're a new business) like legal expenses, permits, computer software, and equipment
Attach your full financial projections in the appendix of your plan along with any supporting documents that make your plan more compelling. For example, you might include your office location lease or photos of your cupcakes.
Writing a business plan for your cupcake business is a worthwhile endeavor. If you follow the template above, by the time you are done, you will truly be an expert. You will understand the cupcake industry, your competition, and your customers. You will develop a marketing strategy and will understand what it takes to launch and grow a successful cupcake business.
Cupcake Business Plan FAQs
What is the easiest way to complete my cupcake business plan.
Growthink's Ultimate Business Plan Template allows you to quickly and easily write your cupcake business plan.
How Do You Start a Cupcake Business?
Starting a cupcake business is easy with these 14 steps:
Choose the Name for Your Cupcake Business
Create Your Cupcake Business Plan
Choose the Legal Structure for Your Cupcake Business
Secure Startup Funding for Your Cupcake Business (If Needed)
Secure a Location for Your Business
Register Your Cupcake Business with the IRS
Open a Business Bank Account
Get a Business Credit Card
Get the Required Business Licenses and Permits
Get Business Insurance for Your Cupcake Business
Buy or Lease the Right Cupcake Business Equipment
Develop Your Cupcake Business Marketing Materials
Purchase and Setup the Software Needed to Run Your Cupcake Business
Open for Business
Don't you wish there was a faster, easier way to finish your Cupcake business plan?
OR, Let Us Develop Your Plan For You
Since 1999, Growthink has developed business plans for thousands of companies who have gone on to achieve tremendous success.
Click here to learn about Growthink's business plan writing services .
Other Helpful Business Plan Articles & Templates
Upmetrics AI Assistant: Simplifying Business Planning through AI-Powered Insights. Learn How

Business Planning
Financial forecasting, ai assistance, see how upmetrics works →, strategic planning, entrepreneurs & small business, accelerators & incubators, business consultants & advisors, educators & business schools, students & scholars.
Business Plan Course
Small business tools, strategic canvas templates, e-books, guides & more.
Customers Success Stories
Sample Business Plans
Food, Beverage & Restaurant
Cupcake Business Plan

Enjoy baking cupcakes and inviting friends over to taste them? Then starting your own cupcake business could be a worthwhile career choice.
Your baking skills and passion for cupcakes may help you get started with a new cupcake bakery, but you need a detailed business plan to succeed.
Need help writing a business plan for your cupcake business? You're at the right place. Our cupcake business plan template will help you get started.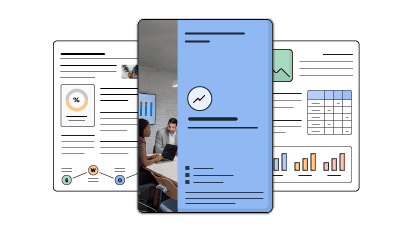 Free Business Plan Template
Download our free business plan template now and pave the way to success. Let's turn your vision into an actionable strategy!
Fill in the blanks – Outline
Financial Tables
How to Write A Cupcake Business Plan?
Writing a cupcake business plan is a crucial step toward the success of your business. Here are the key steps to consider when writing a business plan:
1. Executive Summary
An executive summary is the first section planned to offer an overview of the entire business plan. However, it is written after the entire business plan is ready and summarizes each section of your plan.
Here are a few key components to include in your executive summary:
Introduce your Business:
Start your executive summary by briefly introducing your business to your readers.
Market Opportunity:
Cupcake menu:.
Highlight the variety of cupcakes you offer to your customers. You may also mention any additional services you provide.
Marketing & Sales Strategies:
Financial highlights:, call to action:.
Ensure your executive summary is clear, concise, easy to understand, and jargon-free.
Say goodbye to boring templates
Build your business plan faster and easier with AI
Plans starting from $7/month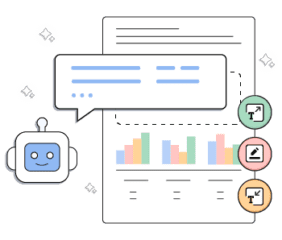 2. Business Overview
The business overview section of your business plan offers detailed information about your business. The details you add will depend on how important they are to your business. Yet, business name, location, business history, and future goals are some of the foundational elements you must consider adding to this section:
Business Description:
Describe your business in this section by providing all the basic information:
Describe what kind of cupcake shop or bakery you run and the name of it. You may specialize in one of the following cupcake businesses:
Retail cupcake bakery
Online cupcake bakery
Custom cupcake catering
Cupcake cafe
Cupcake party services
Describe the legal structure of your solar panel company, whether it is a sole proprietorship, LLC, partnership, or others.
Explain where your business is located and why you selected the place.
Mission Statement:
Business history:.
If you're an established cupcake service provider, briefly describe your business history, like—when it was founded, how it evolved over time, etc.
Additionally, If you have received any awards or recognition for excellent work, describe them.
Future Goals
This section should provide a thorough understanding of your business, its history, and its future plans. Keep this section engaging, precise, and to the point.
3. Market Analysis
The market analysis section of your business plan should offer a thorough understanding of the industry with the target market, competitors, and growth opportunities. You should include the following components in this section.
Target market:
Start this section by describing your target market. Define your ideal customer and explain what types of services they prefer. Creating a buyer persona will help you easily define your target market to your readers.
Market size and growth potential:
Competitive analysis:, market trends:.
Analyze emerging trends in the industry, such as technology disruptions, changes in customer behavior or preferences, etc. Explain how your business will cope with all the trends.
Regulatory Environment:
Here are a few tips for writing the market analysis section of your cupcake business plan:
Conduct market research, industry reports, and surveys to gather data.
Provide specific and detailed information whenever possible.
Illustrate your points with charts and graphs.
Write your business plan keeping your target audience in mind.
4. Products And Services
The product and services section should describe the specific services and products that will be offered to customers. To write this section should include the following:
Cupcake Menu
Additional products:, delivery and shipping services, quality measures.
: This section should explain how you maintain quality standards and consistently provide the highest quality service.
In short, this section of your cupcake plan must be informative, precise, and client-focused. By providing a clear and compelling description of your offerings, you can help potential investors and readers understand the value of your business.
5. Sales And Marketing Strategies
Writing the sales and marketing strategies section means a list of strategies you will use to attract and retain your clients. Here are some key elements to include in your sales & marketing plan:
Unique Selling Proposition (USP):
Pricing strategy:, marketing strategies:, sales strategies:, customer retention:.
Describe your customer retention strategies and how you plan to execute them.
Overall, this section of your cupcake shop business plan should focus on customer acquisition and retention.
Have a specific, realistic, and data-driven approach while planning sales and marketing strategies for your cupcake business, and be prepared to adapt or make strategic changes in your strategies based on feedback and results.
6. Operations Plan
The operations plan section of your business plan should outline the processes and procedures involved in your business operations, such as staffing requirements and operational processes. Here are a few components to add to your operations plan:
Staffing & Training:
Operational process:, equipment & machinery:.
Include the list of equipment and machinery required for a cupcake business, such as commercial ovens, decorating tools, refrigeration equipment, and mixing equipment.
Adding these components to your operations plan will help you lay out your business operations, which will eventually help you manage your business effectively.
7. Management Team
The management team section provides an overview of your cupcake business's management team. This section should provide a detailed description of each manager's experience and qualifications, as well as their responsibilities and roles.
Founders/CEO:
Key managers:.
Introduce your management and key members of your team, and explain their roles and responsibilities.
Organizational structure:
Compensation plan:, advisors/consultants:.
Mentioning advisors or consultants in your business plans adds credibility to your business idea.
This section should describe the key personnel for your cupcake services, highlighting how you have the perfect team to succeed.
8. Financial Plan
Your financial plan section should provide a summary of your business's financial projections for the first few years. Here are some key elements to include in your financial plan:
Profit & loss statement:
Cash flow statement:, balance sheet:, break-even point:.
Determine and mention your business's break-even point—the point at which your business costs and revenue will be equal.
Financing Needs:
Be realistic with your financial projections, and make sure you offer relevant information and evidence to support your estimates.
9. Appendix
The appendix section of your plan should include any additional information supporting your business plan's main content, such as market research, legal documentation, financial statements, and other relevant information.
Add a table of contents for the appendix section to help readers easily find specific information or sections.
In addition to your financial statements, provide additional financial documents like tax returns, a list of assets within the business, credit history, and more These statements must be the latest and offer financial projections for at least the first three or five years of business operations.
Provide data derived from market research, including stats about the cupcake industry, user demographics, and industry trends.
Include any legal documents such as permits, licenses, and contracts.
Include any additional documentation related to your business plan, such as product brochures, marketing materials, operational procedures, etc.
Use clear headings and labels for each section of the appendix so that readers can easily find the necessary information.
Remember, the appendix section of your cupcake cafe business plan should only include relevant and important information supporting your plan's main content.
The Quickest Way to turn a Business Idea into a Business Plan
Fill-in-the-blanks and automatic financials make it easy.

This sample cupcake business plan will provide an idea for writing a successful cupcake plan, including all the essential components of your business.
After this, if you still need clarification about writing an investment-ready business plan to impress your audience, download our cupcake business plan pdf .
Related Posts

Bakery Business Plan

Cookie Business Plan

How to Start Bakery Business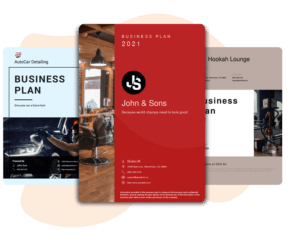 Simple Business Plans Template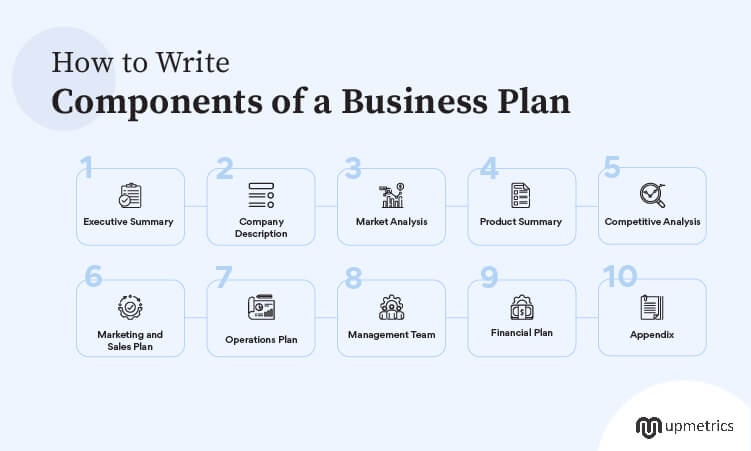 Important Business Plan Components

Write Business Plan using ChatGPT
Frequently asked questions, why do you need a cupcake business plan.
A business plan is an essential tool for anyone looking to start or run a successful cupcake business. It helps to get clarity in your business, secures funding, and identifies potential challenges while starting and growing your business.
Overall, a well-written plan can help you make informed decisions, which can contribute to the long-term success of your cupcake business.
How to get funding for your cupcake business?
There are several ways to get funding for your cupcake business, but self-funding is one of the most efficient and speedy funding options. Other options for funding are:
Bank loan – You may apply for a loan in government or private banks.
Small Business Administration (SBA) loan – SBA loans and schemes are available at affordable interest rates, so check the eligibility criteria before applying for it.
Crowdfunding – The process of supporting a project or business by getting a lot of people to invest in your business, usually online.
Angel investors – Getting funds from angel investors is one of the most sought startup options.
Apart from all these options, there are small business grants available, check for the same in your location and you can apply for it.
Where to find business plan writers for your cupcake business?
There are many business plan writers available, but no one knows your business and ideas better than you, so we recommend you write your cupcake business plan and outline your vision as you have in your mind.
What is the easiest way to write your cupcake business plan?
A lot of research is necessary for writing a business plan, but you can write your plan most efficiently with the help of any cupcake business plan example and edit it as per your need. You can also quickly finish your plan in just a few hours or less with the help of our business plan software .
About the Author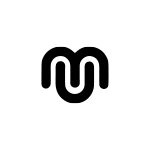 Upmetrics Team
Upmetrics is the #1 business planning software that helps entrepreneurs and business owners create investment-ready business plans using AI. We regularly share business planning insights on our blog. Check out the Upmetrics blog for such interesting reads. Read more

Plan your business in the shortest time possible
No Risk – Cancel at Any Time – 15 Day Money Back Guarantee

Popular Templates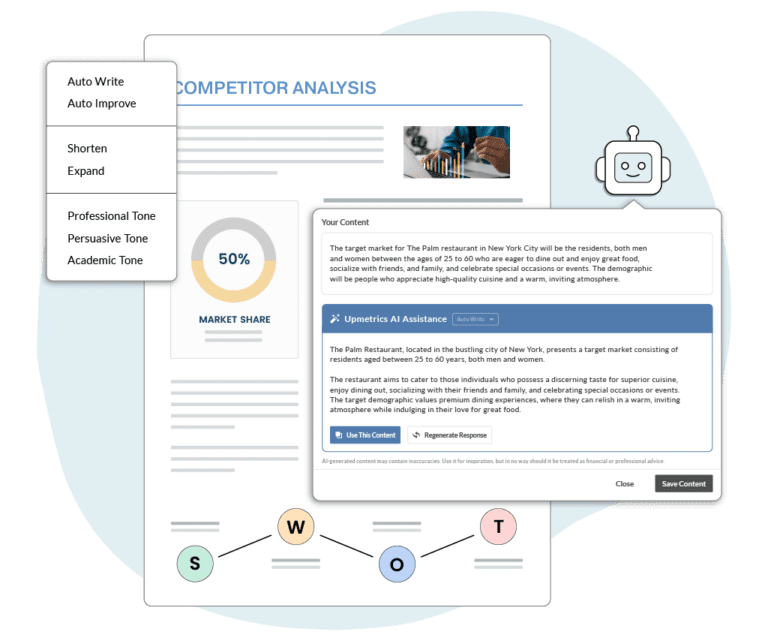 Create a great Business Plan with great price.
200+ Business plan templates & examples
AI Assistance & step by step guidance
4.8 Star rating on Trustpilot
Streamline your business planning process with Upmetrics .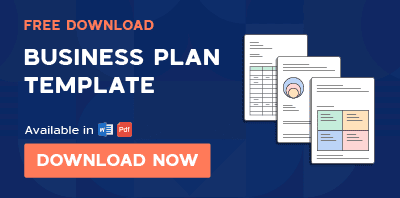 Credit cards
View all credit cards
Banking guide
Loans guide
Insurance guide
Personal finance
View all personal finance
Investing + Retirement
Small business
View all small business
You're our first priority. Every time.
We believe everyone should be able to make financial decisions with confidence. And while our site doesn't feature every company or financial product available on the market, we're proud that the guidance we offer, the information we provide and the tools we create are objective, independent, straightforward — and free.
So how do we make money? Our partners compensate us. This may influence which products we review and write about (and where those products appear on the site), but it in no way affects our recommendations or advice, which are grounded in thousands of hours of research. Our partners cannot pay us to guarantee favorable reviews of their products or services. Here is a list of our partners .
How to Start a Cupcake Business: A Step-by-Step Guide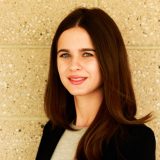 Many or all of the products featured here are from our partners who compensate us. This influences which products we write about and where and how the product appears on a page. However, this does not influence our evaluations. Our opinions are our own. Here is a list of our partners and here's how we make money .
If you think there isn't a day better spent than one baking up a storm in the kitchen, then opening a cupcake business may be the right path for you. While starting a business isn't the easiest or quickest process, it can be one of the most rewarding. If you think this is a path you want to take, keep reading to learn how to start a cupcake business.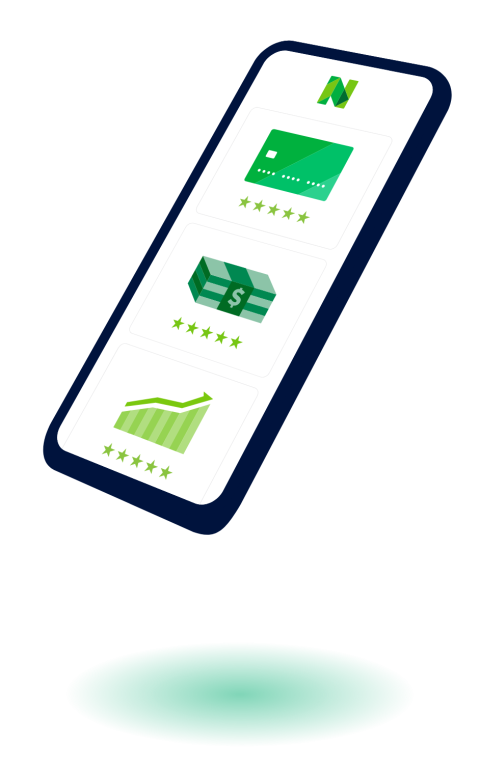 How to start a cupcake business: The ultimate guide
Before you can start the fun parts of running a cupcake business, you'll need to make sure you take care of a few logistical steps. Take a look at this step-by-step guide that can help teach you how to start a cupcake business.
Step 1: Choose a cupcake business format
A bustling bakery filled with customers may sound pretty dreamy to some. Others may want to simply take their passion for baking at home to the next level. There is no one-size-fits-all format for cupcake businesses. You can start small or big, the choice is up to you. Depending on your goals, resources, and funding options, consider one of the following formats for your cupcake shop.
Counter style: You've probably seen this format of cupcake shop before. It's usually a small retail space with just a display case and a counter that customers can order at. You won't provide seating; instead, customers will take their cupcakes to go. This type of space can be cost effective, as you'll only need room for a kitchen (if you bake your cupcakes on site) and a counter.
Bakery and cafe hybrid: Some cupcake businesses take advantage of this hybrid format. This setup takes the counter style business a step further and provides customer seating and the potential for table service. While this format will cost more in real estate, you may be able to sell more goods (like coffee) and potentially more food by keeping customers around for a while.
Food truck: If you want to get your cupcakes to as many people as possible, consider a food truck. These shops on wheels can travel to high-impact areas like street fairs, carnivals, and other events. Or park your truck outside of office buildings when employees need an afternoon pick-me-up. Purchasing a food truck can cost less over time than renting retail space, but if you don't want to do all of your baking and decorating in this small space, you may want to consider additional kitchen space elsewhere.
Home bakery: If you want to keep your business sweet and simple, try out a home bakery format for a while. You won't be able to produce mass quantities of cupcakes, but you can focus on specialty orders or catering jobs. You'll save a fortune by not buying or renting a commercial property. You can also sell your cupcakes at a farmers market or cut a deal with local coffee shops to sell your cupcakes there.
Step 2: Write a business plan
In order to keep your business organized and to show its value to potential investors or lenders, you'll want to write a business plan. This step may take a while to complete, but it will help guide you throughout the difficult process of starting a cupcake business.
Use this plan to organize any goals you have for your business and your financial plans. By getting these ideas down on paper, you'll be able to review the work you've done so far, make a plan for what still needs to be done, and know you're working toward an end goal. Customize your business plan as need be, but the following sections are ones you should generally include in a business plan.
Executive summary : You'll start your business plan with a brief section that outlines the purpose of your business, your current and projected finances, what makes your business destined for success, and what your goals are. Consider writing this section last, even though it goes at the beginning of the plan, as it will serve as a summary of the rest of your business plan.
Company overview : Consider your company overview to be your business's elevator pitch. You'll use this section to explain what your business does and to give a glimpse at your industry and marketplace. And don't forget to share what will make your business valuable.
Market analysis : Do some digging on your industry and market, as well as who your competitors are. Dive deep and provide an analysis of what you've learned. The market analysis will be very helpful for you to reference down the line when making important decisions about your business.
Business organization : Consider this section your business's family tree. You need to outline who in your company does what. Share yours, your partners', and your key employees' background and explain how they benefit the company. If you're the only employee of your company, it's okay to keep this section brief.
Products and services : So you know you'll be selling cupcakes, but it's time to dive into greater detail here. What types of cupcakes will you sell (flavors, themes, etc.), and will you also provide other items? Provide as much detail as you have at this point about what you'll offer customers.
Marketing and sales plan : How exactly will you get customers to discover your delicious cupcakes? Explain step-by-step how you plan to market your business.
Financial plan and projections : If you have past financial data to share, now is the time to share it alongside a look at any financial projections you have for the future. This section is an important part of proving you have a valuable business on your hands, so provide as many concrete details as possible.
Appendix : For the final section of your business plan, add in any supporting information you didn't have room for in other sections of your plan. You may want to add in any valuable graphics, data points, or footnotes here.
Step 3: Choose a business entity
Choosing a business entity is an important step to starting a cupcake business, but can be a confusing one. You may want to hire a business attorney or an accountant to help with this process. How you structure your business will affect your taxes and legal responsibilities, so you'll want to choose wisely.
Consider one of the more common types of business entities:
Sole proprietorship: This type of unincorporated business has either one owner or is owned jointly by a married couple. You won't have to register your business and your taxes will be reported on your personal tax return.
General partnership: An unincorporated business that has multiple owners but is otherwise like a sole proprietorship in terms of registration and taxes.
Limited liability company (LLC): A registered business that provides all of its members with a degree of personal protection if someone sues your business. You can choose to be taxed as a partnership or corporation.
Corporation: This is a type of incorporated business; with the most common types being an S-corporation or C-corporation. Taxes will vary depending on which type of corporation you choose.
Step 4: Choose a business name
If you haven't already come up with a business name, you should start brainstorming now. Once you do decide what your desired name is, you'll need to double-check that another business isn't already using the name. Searching Google briefly will give you some idea of its availability, but a more formal Secretary of State business search is also necessary to check if any other business in your state is operating with your desired name.
To take it a step further, you should also check for trademark filings with the U.S. Patent and Trademark Office . This is especially important if you want to take your cupcake business online or to a larger market than just your town's Main Street. To really make sure you have the right to a name, and if your budget permits, hire an attorney to assist with this process. They can put in the leg work and you'll have the peace of mind that you've chosen name that is rightfully yours.
Step 5: Find the right location
Once you've chosen the right cupcake business format, you can go ahead and start the search for the perfect location. If you've chosen to move forward with a storefront, you should consider working with a commercial real estate agent that specializes in finding business spaces to rent or purchase. If you're planning to rent, you'll want to work with someone whose goal is to assist tenants, not landlords. Your chosen real estate agent should be familiar with your community, what prices are fair, and what locations are valuable. They should be able to show you spaces that come with some of your required equipment like commercial-sized ovens or refrigerators.
If you decide a food truck is more your style, find a specialty car dealer online or in-person that sells food trucks or trucks that can be transformed into food trucks. You may want to consider buying a used food truck off a website like Craigslist for a better deal, but be sure to check it out in person before committing.
Step 6: Get the appropriate licenses and permits
An important part of opening any type of business is following the rules. Each state's business requirements vary, so it's best to research your local government's requirements for any business licenses and permits needed to start a cupcake business.
Cities and counties can have specific requirements regarding business licenses and permits you must follow. You'll want to review state, city, and county government websites to ensure you have all necessary documentation filed. Your needs may vary based on where you live and your business type, but businesses within the food services industry will likely need more licenses than most. These may include:
Sales privilege license
Food handler's license
Catering license
Health department permits
Zoning laws and permits
Step 7: Register for taxes and obtain an EIN
As a responsible business owner, you'll have to make sure you're following the law at all times. Meaning you'll need to properly adhere to any tax, licensing, and employer requirements. Taking some time to familiarize yourself with any legal requirements of running your business will save you a lot of trouble down the road—not to mention money and stress. The business entity you chose, and other aspects of your business, will determine what business taxes you'll have to pay and how you'll file. Now may be a good time to consult a tax professional to ensure you know what to expect.
If your cupcake business needs employees to function properly, you will need an employer identification number. This number is also known as an EIN or business tax ID number. You'll obtain your EIN through the IRS and will utilize it when filing taxes for your business. It will also be used if you open a business bank account, credit card, or apply for a business loan. There are many benefits of obtaining an EIN worth considering—even if you don't plan to hire employees.
Step 8: Brand your cupcake business
Proper branding is one of the most important ways to make your cupcake business stand out. Every branding decision you make will influence how your customers view your business. The colors, logos, font, style of copy, and your name can all tell a story about your business. What type of story you want to tell is your decision to make. But remember, consistency is your friend. The more consistent your branding, the better. Consider the following areas when planning your branding:
Color scheme
Social media
Product names
Pause for a moment and think carefully about what story you want to tell. Whenever you make a branding decision, reference that story and see if it aligns. Ideally, your name and logo will be instantly recognizable as a symbol of your brand. You'll want your packaging, social channels, and the decor of your shop to have a similar effect.
Step 9: Separate your business finances
When you open your cupcake business, there's a good chance your personal money will fund a decent chunk of it. Rather quickly, your business and personal finances may start to mix. It's best if you can avoid mixing the two as much as possible and keep your personal finances separate from your business finances. Opening a business bank account can be one of the best ways to force this separation. Depending on which business entity you chose to structure your business, it may also be required that you establish a separate business bank account.
When you do open a business bank account, you'll have to decide which type works best for your business. If you are a new business owner, you should start with a business checking account . But if your cupcake business is already established and you find you have extra cash on hand, then a business savings account will be most beneficial so this balance can gain interest. Whichever path you choose, you'll benefit come tax season when your income and expenses are all organized.
In addition to a business bank account, you'll also want to sign up for a business credit card . There will be plenty of options to choose from, but brand-new businesses may find a 0% introductory APR credit card especially helpful. A little help covering the startup costs of your business, with no interest for a set amount of time, can't hurt—as long as you use the card responsibility and have a plan to pay off the balance before the intro offer ends and a variable APR sets in.
Step 10: Secure business funding
Even if you have a top-secret cupcake recipe that could win the hearts and stomachs of people from miles around, your business won't be able to succeed without proper funding. It takes money to make money. And in this case, it also takes money to make cupcakes. Starting a cupcake business can be costly, especially when it comes time to purchase expensive equipment or supplies in bulk. Not to mention, you might have pricey rent to pay for your storefront and employees with salaries and benefits. Once you've done the math and uncovered how much funding you need, you can consider some of the following options.
Some popular cupcake business funding options include:
Startup business loans : If you're struggling to secure funding as a new business (which is not uncommon), a startup business loan may come in handy. There are multiple options that fall under this category like an SBA microloan or a small business grant. In general, SBA loans are a popular funding option because they offer low interest rates and long repayment plans. While their standard loans typically require some business history and good financials, their microloan program is geared toward new business looking for up to $50,000.
Business line of credit : A business line of credit provides access to a set credit limit. You can borrow against that limit for any business-related expenses. The main benefit of this form of credit is that you only have to pay interest on the money you borrow, not the entire limit you have access to. Generally, you don't need strong credit to qualify for this type of funding.
Equipment financing : If you need to purchase expensive equipment for your business, such as ovens, mixers, or a food truck, equipment financing might be an avenue worth pursuing—especially when you have a lot of upfront costs to start your business. The equipment purchased serves as collateral for the loan, which can make this form of financing easier to qualify for than other types of loans.
Step 11: Master your recipes
Whether you're baking cupcakes yourself or you've hired a top-notch baker, it is important to master your recipes before opening shop. Of course, you'll want to take customer feedback into consideration, but ideally once you launch your cupcake business, they'll have only good things to say.
Cupcake shops are a popular business model, so it might be difficult to make yours stand out. This is why you need to find the perfect mix of classic and trendy flavors. You won't want to forgo timeless favorites like vanilla, chocolate, and red velvet. But you'll also want to experiment with unique flavors that no one has seen anywhere else before. Offering specialty cupcakes that suit select dietary needs may also help you stand out amongst the crowd. If you can whip up a delicious vegan or gluten-free cupcake, you'll appeal to a larger customer base.
Step 12: Get social
Cupcakes make people happy. And happiness should be shared. It's time to get social. Consider investing some time fostering the following digital channels to spread the word about your cupcake business.
Social media : Start your foray into the social media world with Instagram. Tasty-looking cupcakes will perform best on social media channels that support images. Facebook isn't a bad place to start either. Experiment a little bit on a few different channels and find what works for you. You can announce new flavors, deals and promotions, and testimonials from well-fed and happy customers.
Email: It may feel a bit old-school compared to social media, but email is here to stay. In fact, many digital marketers prefer using email as a form of advertisement. Unlike social media, email isn't a trend that will pass anytime soon, there are no tricky algorithms to worry about pleasing, and no one can take your hard-earned email list from you. A popular social platform, on the other hand, could shut down without notice and take your audience with them.
Website: Every business needs a website. For a cupcake business, having a website is extra important. You need one to share your address, menu, and hours. Not to mention, it's a great place to promote your social media and email presence.
Review sites: Websites like Yelp that allow customers to leave reviews about businesses can make or break a cupcake shop. Of course, you want as many good reviews as possible. Encourage happy customers to leave reviews on these sites. You may want to offer them a coupon or a free cupcake as enticement for leaving a review. However, it's inevitable that some negative reviews will surface as well. Learn how to respond to them the right way with this guide.
The bottom line
Learning how to start a cupcake business is a mix of creative and logistical work. Of course, you may want to focus on baking, branding, and promoting your business on social media. But to make sure your cupcake business succeeds, you'll also have to ensure you've written a business plan, secured financing, and gotten your legal ducks in a row.
This article originally appeared on JustBusiness, a subsidiary of NerdWallet.
On a similar note...
How to Start a Cupcake Business
Cupcake shops can be structured in a number of different ways, depending upon the goals and business plan of the entrepreneur. They may involve a brick-and-mortar storefront, a delivery service, selling directly to other businesses like restaurants and shops, or a combination of all three. Retail and delivery businesses are currently leading the cupcake trend. What they all have in common, is the ability to bring a smile to their customer's faces by way of the delectable baked treats they provide.
Learn how to start your own Cupcake Business and whether it is the right fit for you.
Ready to form your LLC? Check out the Top LLC Formation Services .
Start a cupcake business by following these 10 steps:
Plan your Cupcake Business
Form your Cupcake Business into a Legal Entity
Register your Cupcake Business for Taxes
Open a Business Bank Account & Credit Card
Set up Accounting for your Cupcake Business
Get the Necessary Permits & Licenses for your Cupcake Business
Get Cupcake Business Insurance
Define your Cupcake Business Brand
Create your Cupcake Business Website
Set up your Business Phone System
We have put together this simple guide to starting your cupcake business. These steps will ensure that your new business is well planned out, registered properly and legally compliant.
Exploring your options? Check out other small business ideas .
STEP 1: Plan your business
A clear plan is essential for success as an entrepreneur. It will help you map out the specifics of your business and discover some unknowns. A few important topics to consider are:
What will you name your business?
What are the startup and ongoing costs?
Who is your target market?
How much can you charge customers?
Luckily we have done a lot of this research for you.
Choosing the right name is important and challenging. If you don't already have a name in mind, visit our How to Name a Business guide or get help brainstorming a name with our Cupcake Business Name Generator
If you operate a sole proprietorship , you might want to operate under a business name other than your own name. Visit our DBA guide to learn more.
When registering a business name , we recommend researching your business name by checking:
Your state's business records
Federal and state trademark records
Social media platforms
Web domain availability .
It's very important to secure your domain name before someone else does.
Want some help naming your cupcake business?
Business name generator, what are the costs involved in opening a cupcake business.
You'll first need to decide if you'd like to invest in a cupcake franchise or start your own cupcake business from the ground up. Yummy Cupcakes and Gigi's Cupcakes both offer wonderful franchising opportunities. Take the time to consider your options and ensure you're making a sound business decision; one that aligns with your overall vision for the company.
Start-up costs vary, depending upon your business model. Will you be offering cupcake delivery or a full-blown storefront? Will you work out of your home kitchen or are you envisioning an industrial kitchen? Below is a list of materials you'll need, with actual cost ranging anywhere from $50,000 to $300,000.
Rental space, outfitted with all the necessities of a commercial kitchen
Baking equipment and kitchen gadgets
Ingredients
Marketing and other standard business expenses
Accounting and CRM software applications for proper management of accounts
What are the ongoing expenses for a cupcake business?
Ongoing expenses include cupcake ingredients, packaging, and promotional items. If you have a storefront, you'll also face the standard overhead costs of rent and utilities. If delivery is part of your business plan, budget for higher fuel and insurance costs, as well as vehicle payments and repair costs.
Who is the target market?
Perhaps the most important thing to consider when starting a cupcake business is the niche market that will make your cupcakes stand out from standard bakeries and other cupcake businesses. Niches include organic cupcakes, vegan products, and gluten free options. Once you've identified your target niche, you'll have a better understanding of your preferred customer type, as well as how to market to them. The one thing they all share - their love of cupcakes.
How does a cupcake business make money?
Regardless of how you decide to structure the business, your profit will be made through the sale of each cupcake. Similar to donut shops, most offer special pricing for orders of a dozen or more cupcakes.
Pricing varies, depending upon location and demographic. Customers are paying almost $5/cupcake in New York, while $3.50 is the average in other parts of the country. Many bakers offer reduced prices for a dozen or more cupcakes. Keep your prices competitive and include all your expenses when crafting your price list.
How much profit can a cupcake business make?
There's an opportunity to turn a real profit in the cupcake business; it all depends upon your vision and how much you're willing to put into it. Some choose to maintain a small, mom-and-pop atmosphere, while others envision a franchise in their future. Those who have pursued the franchising path are currently multi-millionaires, while others are content with an annual profit of $35,000-$50,000.
How can you make your business more profitable?
The following are a few strategies you can implement to ensure a more profitable business:
Teach classes, where students learn how to bake and decorate cupcakes. Just don't give away your secret recipes!
Offer additional baked goods such as cookies, cakes, and pies.
Coffee is a great addition to any cupcake shop.
Network with local party venues, wedding and party planners, and coffee shops.
Set up a "cupcake ATM," which is a kiosk dedicated to the sale of cupcakes.
Want a more guided approach? Access TRUiC's free Small Business Startup Guide - a step-by-step course for turning your business idea into reality. Get started today!
STEP 2: Form a legal entity
The most common business structure types are the sole proprietorship , partnership , limited liability company (LLC) , and corporation .
Establishing a legal business entity such as an LLC or corporation protects you from being held personally liable if your cupcake business is sued.
Form Your LLC
Read our Guide to Form Your Own LLC
Have a Professional Service Form your LLC for You
Two such reliable services:
You can form an LLC yourself and pay only the minimal state LLC costs or hire one of the Best LLC Services for a small, additional fee.
Recommended: You will need to elect a registered agent for your LLC. LLC formation packages usually include a free year of registered agent services . You can choose to hire a registered agent or act as your own.
STEP 3: Register for taxes
You will need to register for a variety of state and federal taxes before you can open for business.
In order to register for taxes you will need to apply for an EIN. It's really easy and free!
You can acquire your EIN through the IRS website . If you would like to learn more about EINs, read our article, What is an EIN?
There are specific state taxes that might apply to your business. Learn more about state sales tax and franchise taxes in our state sales tax guides.
STEP 4: Open a business bank account & credit card
Using dedicated business banking and credit accounts is essential for personal asset protection.
When your personal and business accounts are mixed, your personal assets (your home, car, and other valuables) are at risk in the event your business is sued. In business law, this is referred to as piercing your corporate veil .
Open a business bank account
Besides being a requirement when applying for business loans, opening a business bank account:
Separates your personal assets from your company's assets, which is necessary for personal asset protection.
Makes accounting and tax filing easier.
Recommended: Read our Best Banks for Small Business review to find the best national bank or credit union.
Get a business credit card
Getting a business credit card helps you:
Separate personal and business expenses by putting your business' expenses all in one place.
Build your company's credit history , which can be useful to raise money later on.
Recommended: Apply for an easy approval business credit card from BILL and build your business credit quickly.
STEP 5: Set up business accounting
Recording your various expenses and sources of income is critical to understanding the financial performance of your business. Keeping accurate and detailed accounts also greatly simplifies your annual tax filing.
Make LLC accounting easy with our LLC Expenses Cheat Sheet.
STEP 6: Obtain necessary permits and licenses
Failure to acquire necessary permits and licenses can result in hefty fines, or even cause your business to be shut down.
Federal Business Licensing Requirements
There are federal regulations regarding what can and cannot be added to, sold as, and processed with food. Here is a resource from the Food and Drug Administration detailing the process of starting a food business.
State & Local Business Licensing Requirements
State permits and licenses are typically needed to operate a cupcake business. Learn more about licensing requirements in your state by visiting SBA's reference to state licenses and permits .
In addition, when selling food, you will need licensing from a local health department. All establishments serving food are required to pass a health inspection. Tips for faring well on a health inspection can be found here .
Most businesses are required to collect sales tax on the goods or services they provide. To learn more about how sales tax will affect your business, read our article, Sales Tax for Small Businesses .
Certificate of Occupancy
If you plan to run this business out of a commercial kitchen, as many owners do, you will need a certificate of occupancy. Businesses operating out of a physical location typically require a Certificate of Occupancy (CO). A CO confirms that all building codes, zoning laws and government regulations have been met.
If you plan to lease a location:
It is generally the landlord's responsibility to obtain a CO.
Before leasing, confirm that your landlord has or can obtain a valid CO that is applicable to a business involved in food preparation.
After a major renovation, a new CO often needs to be issued. If your place of business will be renovated before opening, it is recommended to include language in your lease agreement stating that lease payments will not commence until a valid CO is issued.
If you plan to purchase or build a commercial kitchen:
You will be responsible for obtaining a valid CO from a local government authority.
Review all building codes and zoning requirements for your business' location to ensure your cupcake business will be in compliance and able to obtain a CO.
STEP 7: Get business insurance
Just as with licenses and permits, your business needs insurance in order to operate safely and lawfully. Business Insurance protects your company's financial wellbeing in the event of a covered loss.
There are several types of insurance policies created for different types of businesses with different risks. If you're unsure of the types of risks that your business may face, begin with General Liability Insurance . This is the most common coverage that small businesses need, so it's a great place to start for your business.
Another notable insurance policy that many businesses need is Workers' Compensation Insurance . If your business will have employees, it's a good chance that your state will require you to carry Workers' Compensation Coverage.
FInd out what types of insurance your Cupcake Business needs and how much it will cost you by reading our guide Business Insurance for Cupcake Business.
STEP 8: Define your brand
Your brand is what your company stands for, as well as how your business is perceived by the public. A strong brand will help your business stand out from competitors.
If you aren't feeling confident about designing your small business logo, then check out our Design Guides for Beginners , we'll give you helpful tips and advice for creating the best unique logo for your business.
Recommended : Get a logo using Truic's free logo Generator no email or sign up required, or use a Premium Logo Maker .
If you already have a logo, you can also add it to a QR code with our Free QR Code Generator . Choose from 13 QR code types to create a code for your business cards and publications, or to help spread awareness for your new website.
How to promote & market a cupcake business
Let the product speak for itself. Start baking and let everyone have a taste. Attach a business card to each cupcake. This gets the word out and, shares your contact information with those who show interest.
Put flyers up at local shopping malls and distribute them as mailers throughout your community. Attend local charity events and get listed as a sponsor - everyone loves a business that gives back to the community.
Network with event managers and wedding planners, as they're in constant need of the product you carry. Advertise in food and business mailers, on local radio and TV stations, and list your business in all local directories. Join the American Bakers Association to receive industry tips and a featured listing on their website. Maintain an online presence on social media platforms such as Facebook and Instagram, where you can share specials and announce new products.
Go where your niche customers are. If you specialize in fresh ingredients, head out to the farmer's market. This will help build your brand, gain a loyal following, and enable you to build relationships with other entrepreneurs in the community.
How to keep customers coming back
Building a customer base requires the perfect "recipe" - great taste, a variety of flavors, creative designs, and excellent customer service. To consistently appeal to your target demographic, ask for feedback. When you have a new product, ask them to be your taste-testers. Consider their input and tweak recipes accordingly. The interest you take in your customers will go a long way in ensuring positive word-of-mouth.
STEP 9: Create your business website
After defining your brand and creating your logo the next step is to create a website for your business .
While creating a website is an essential step, some may fear that it's out of their reach because they don't have any website-building experience. While this may have been a reasonable fear back in 2015, web technology has seen huge advancements in the past few years that makes the lives of small business owners much simpler.
Here are the main reasons why you shouldn't delay building your website:
All legitimate businesses have websites - full stop. The size or industry of your business does not matter when it comes to getting your business online.
Social media accounts like Facebook pages or LinkedIn business profiles are not a replacement for a business website that you own.
Website builder tools like the GoDaddy Website Builder have made creating a basic website extremely simple. You don't need to hire a web developer or designer to create a website that you can be proud of.
Recommended : Get started today using our recommended website builder or check out our review of the Best Website Builders .
Other popular website builders are: WordPress , WIX , Weebly , Squarespace , and Shopify .
STEP 10: Set up your business phone system
Getting a phone set up for your business is one of the best ways to help keep your personal life and business life separate and private. That's not the only benefit; it also helps you make your business more automated, gives your business legitimacy, and makes it easier for potential customers to find and contact you.
There are many services available to entrepreneurs who want to set up a business phone system. We've reviewed the top companies and rated them based on price, features, and ease of use. Check out our review of the Best Business Phone Systems 2023 to find the best phone service for your small business.
Recommended Business Phone Service: Phone.com
Phone.com is our top choice for small business phone numbers because of all the features it offers for small businesses and it's fair pricing.
TRUiC's Startup Podcast
Welcome to the Startup Savant podcast , where we interview real startup founders at every stage of the entrepreneurial journey, from launch to scale.
Is this Business Right For You?
Are you consistently assigned the task of bringing cupcakes to every family and friends event? Does everyone praise your baking skills? Have you ever thought about how wonderful it would be to be your own boss? If you answered "yes" to these questions, and genuinely enjoy the art of baking, starting a cupcake business might be your path to personal and professional freedom.
Want to know if you are cut out to be an entrepreneur?
Take our Entrepreneurship Quiz to find out!
Entrepreneurship Quiz
What happens during a typical day at a cupcake business?
Your day will be centered around baking. Once you know your baking goals for the day, you'll enter the kitchen and bake. After the cupcakes are ready, you'll either display them in your shop or package them for delivery or pickup. The kitchen should be thoroughly cleaned and put back together in preparation for filling the next order. When not filling orders or stocking the shelves, most shop owners work on perfecting new recipes, flavors, and designs.
Downtime from baking is spent on light office duties. Books are balanced and inventory is restocked. Phone calls are returned and marketing strategies are tweaked and implemented. A cake shop owner's day is long and active. But how fulfilling to see the pleasure on a customer's face as they take a bite out of your creations!
What are some skills and experiences that will help you build a successful cupcake business?
While not a seasonal business, the market has become saturated with cupcake shops in the last few years. There's still room for success, but this reality makes it a much more competitive market. A knack for baking and cupcake decorating is, obviously, a critical skill. But it takes much more than a great cupcake to succeed in this business.
Creativity and a natural ability to blend flavors, textures, and colors is important for long-term growth and success. Consumers want something special to represent their loved one's celebrated event, or simply for a tasty treat to wash away a bad day. Whatever the occasion, they're looking to you to deliver a product that is both delicious and memorable.
Running a successful cupcake shop isn't just about being in the kitchen. It requires commitment and strong business management skills. Networking and an understanding of people and their confectionery needs is critical for long-term growth. It also means understanding you cannot do it all. At some point, you'll need to hire outside help, which means letting go and delegating with confidence.
What is the growth potential for a cupcake business?
Most cupcake business owners start out small-scale. In fact, a vast majority of them work out of their home until they outgrow the space. But your business doesn't have to be limited to a small, local business. Like Gigi Butler , founder of Gigi's Cupcakes, there are multiple opportunities aspiring cupcake shop owners can pursue to grow their business on a national scale.
TRUiC's YouTube Channel
For fun informative videos about starting a business visit the TRUiC YouTube Channel or subscribe to view later.
Take the Next Step
Find a business mentor.
One of the greatest resources an entrepreneur can have is quality mentorship. As you start planning your business, connect with a free business resource near you to get the help you need.
Having a support network in place to turn to during tough times is a major factor of success for new business owners.
Learn from other business owners
Want to learn more about starting a business from entrepreneurs themselves? Visit Startup Savant's startup founder series to gain entrepreneurial insights, lessons, and advice from founders themselves.
Resources to Help Women in Business
There are many resources out there specifically for women entrepreneurs. We've gathered necessary and useful information to help you succeed both professionally and personally:
If you're a woman looking for some guidance in entrepreneurship, check out this great new series Women in Business created by the women of our partner Startup Savant.
What are some insider tips for jump starting a cupcake business?
Due to a saturated market, storefront location is critical to your overall success. If your focus is on cupcake delivery, make sure your website is intuitive and user-friendly.
Invest in items on an as-needed basis.
Your success is defined by how consistently you produce quality products. When you find the perfect ingredient brand, stick with it.
Proper pricing is important. Find the right balance - you don't want to undercut everyone else in the community, but you also need to avoid inflated prices.
To hit the sweet spot with pricing and ensure maximized profit, consider buying ingredients in bulk or from a wholesale distributor.
When starting out, select a few tried-and-true recipes.
Packaging is an important component, as it reflects your brand.
How and when to build a team
Many cupcake business owners start out with just friends and family assisting. As your business starts to grow, however, you'll quickly realize you need a team. Many bakers have found success offering internships to culinary students. They receive the training and credits needed and you receive help at a bargain price.
No matter who you decide to add to your team, your success if contingent on everyone being on the same page. Hold regular meetings to ensure everyone is clear regarding your business goals, and that concerns, challenges, and feedback are discussed. Encourage employees to pursue specialized certifications and consider sponsoring them as they work towards their goals. If you invest in their future, they'll invest in yours.
Useful Links
Industry opportunities.
American Bakers Association
Franchise opportunity with Yummy Cupcakes
Franchise opportunity with Gigi's Cupcakes
Real World Examples
Business profile with Gigi Butler, owner of national chain Gigi's Cupcakes
Smallcakes Cupcakery, featured on Cupcake Wars
Further Reading
How-to guide detailing the process of opening a cupcake business
Start a Cupcake Business Today by Paula Spencer
Entrepreneur Interviews
Read Interview
Have a Question? Leave a Comment!
Our range of over 180 online courses are fully accredited, trusted by more than 2 million learners and ideal for training you and your team.
Food Hygiene
Health and Safety
Safeguarding
Asbestos Awareness
Fire Safety
Mental Health
Health and Social Care
Business Essentials
Team training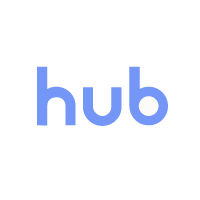 Welcome to the Hub, the company blog from High Speed Training.
Select a topic to find the most up to date, practical information and resources produced by our experts to support you in your professional life.
How to Start a Cupcake Business
Cupcake businesses are a hot topic and it's easy to see why. With low start-up costs and room for big profit margins, setting up your own cupcake business is a dream that many have turned into reality. And, of course, who could forget the hysteria caused by the UK's Great British Bake Off every year.
If you have a passion for baking, then why not make it into a career? With all this entrepreneurial success surrounding baking, it's no wonder cupcake businesses are booming – some reports have stated that there has been a 230% increase in home baking businesses in recent years.
In this article, we will take you through everything you need to know about starting your own cupcake business. We'll outline the benefits, explain how to write a business plan and detail everything you'll need to get started. Finally, we'll explore some of the marketing strategies you can use to promote your business.
Is a Cupcake Business Profitable?
How to write your business plan, register your food business, food hygiene training, food labelling and packaging, equipment needed for cupcakes, marketing your business on social media, why start a cupcake business.
Even in an economy where cash-flow is slow and people have less money to spend, cupcake businesses are still taking off. Cupcakes are seen as a luxury product but, with their small price tag for consumers, they're the ultimate feel-good purchase that won't break the bank.
Some of the benefits of starting a cupcake business include:
Low start-up costs. The start-up cost of a cupcake business can be as little or as much as you like. There are certain elements that you'll need to have, but overall, the start-up costs are much lower than other businesses.
Creating your own working schedule. While you may need to work longer hours to begin with, once you're established, you'll be able to dictate when you want to work and which jobs you decide to take on.
The business can be run from home. Along with choosing your own hours, you'll be able to work exclusively from the comfort of your own home.
The ability to be creative in your job. You'll be in charge of choosing what you produce, how you do that, and what it looks like.
Diversification opportunities once the business takes off. The opportunities to expand into further markets are endless. If you want some inspiration, check out our article: ' Ideas for Starting a Food Business from Home '.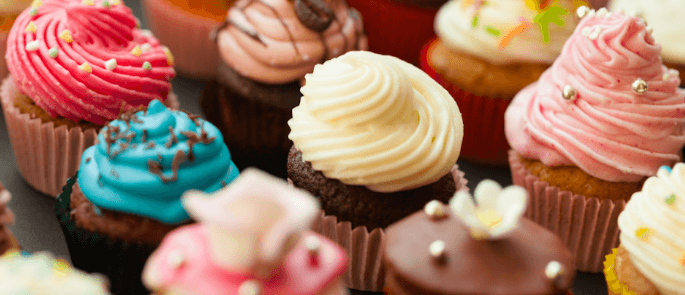 Cupcake businesses can be extremely profitable. This is partly due to the low start-up costs – starting your business can be as expensive or inexpensive as you want it to be. There's no need to upgrade or buy new equipment unless you feel the need to – but we'll look into the specifics of what you'll need later in the article.
As the money you'll need to invest to get started is minimal, you'll turn a profit much faster than other businesses. Cupcakes are also inexpensive to make, in terms of the amount of ingredients needed to create each one, but they have a high profit margin. Even if you set a reasonably low price point for your cupcakes, you'll make a profit on each one.
By running your business from home, you're also avoiding extra utility costs from owning a café, restaurant or shop. This allows you to enjoy the majority of the profits you make.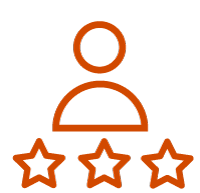 Want to Learn More?
Our Starting a Home Food Business course explains the fundamental steps you need to take in order to comply with the legal requirements and food safety regulations. It also covers how to write a business plan, conduct market research and ways to promote your business.
Cupcake Business Plan
Once you've decided that you'd like to start a cupcake business, the first thing you need to do is research the market.
Market research will help you to identify several key areas that are important to focus on if you want your business to be successful. It will help to identify who your target audience is, what they are looking for, how often they want it, how much they are willing to pay for it and whether you will have any competition.
Things that you need to find out during the market research stage include:
What kind of cupcake business are you going to open?
Which recipes will you use? Have they been tested?
Who are you customers and what is their demographic?
Will you sell your products online, in a shop or both?
Will you sell just cupcakes or full-size cakes and tray-bakes too?
Will you be a catering or retail business?
Are there any local events that you can sell your cupcakes at?
Will you rent or buy premises outside your home? Where will this be?
Will you have a delivery option? What are the costs and demand for this?
Is there any existing competition? What do they offer?
Do you need any insurance, certificates or licences to operate the business?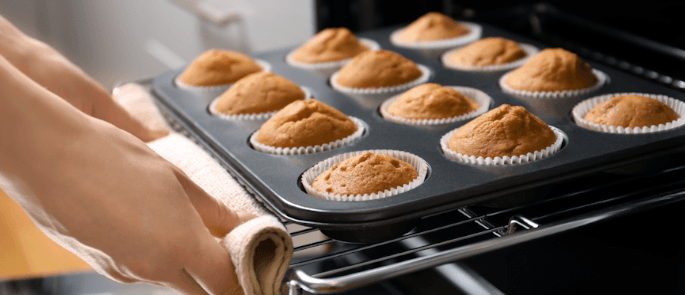 Every business needs a plan. The idea is that you write down, in one document, everything about the business to make your opportunity sound as attractive as possible to potential business partners and financial lenders. It also helps you to keep a focus on what your business objectives are so that you completely understand what you are aiming towards and how you are going to get there.
Writing a business plan doesn't have to be a complicated job and, for a small cupcake business, it doesn't have to be very long. As long as you get all the key information written down in a logical order, then your business plan is good to go.
Topics to include in your business plan are:
The name, address and contact details of your business.
Information on the management of the business; who's in charge?
Your company's Mission Statement: in one sentence, summarise the aim of your cupcake business.
Where you will operate from; where is your office or kitchen, how big is it and what are the overhead costs involved?
Your start-up costs; what equipment do you need to buy? Do you have any insurance or training to pay for?
The everyday costs of the business; how much will you spend on ingredients and overhead costs on a weekly or monthly basis?
Funding and financial projections; where do you plan to get the money from to start the business and what are your projected profits/losses for the next month, year, 2 years, etc? How will you maintain the cash-flow?
Will you work on the business full-time or alongside your day job?
Does your business have any competition and what are the features or benefits of your own business that will make it stand out?
What is your marketing strategy?
Do you have the logistics in place to deal with delivery, customer service, insurance, etc?
Start your business plan in a word-processor document on your computer, grab a notebook or bring up a new page on your tablet – it doesn't matter where!
We've put together a simple template that you can use to get you started:
One Page Business Plan
What Do I Need to Start a Cupcake Business?
Once you have organised your business plan, it's time to focus on making sure that your business will be legally compliant.
Selling food online without the proper registration or other legal requirements in place can have dire consequences not only for business owners, but for the health, safety and wellbeing of your customers.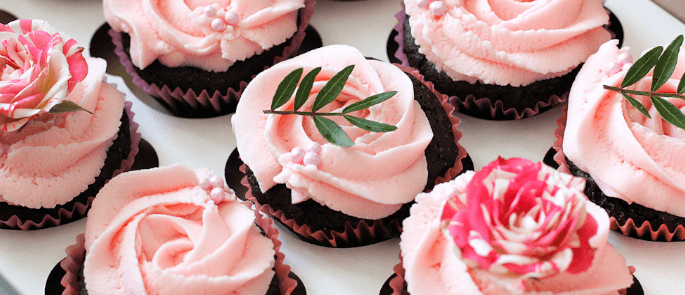 According to the Government, anyone who is regularly selling food must register as a food business through their local authority. On the Government website , you can input your postcode and this will direct you to where you need to apply. This licence is free to obtain, and cannot be refused.
However, you must register as a food business at least 28 days before trading . If you are already trading, you must register as soon as possible.
Trading without proper registration can result in a fine or prison sentence of up to two years.
You must also register with the Government as a sole trader in order to complete a self-assessment tax return each year. The Government classes anyone who is self-employed as a sole trader.
Once you have completed the necessary registration, you will receive a visit from the Environment Health Office (EHO) within 28 days of submitting your registration form. The EHO will ensure that you are compliant with all the relevant food hygiene legislation and are therefore safe to be trading.
During the inspection, EHO inspectors will assess three areas of your home food business:
The physical condition of your premises . This means measuring your cleanliness, and whether you have suitable ventilation and pest control measures.
Food hygiene . This involves ensuring that you and any employees have safe preparation methods, cooking and storage of food, and making sure you know how to safely cool or reheat your products.
Food safety . This means inspecting the precautions you have in place for this, such as having a food safety management system implemented and used. HACCP (Hazard Analysis and Critical Control Point) is an example of this. You can find more information on HACCP in our article here .
Once they have completed their inspection, the EHO will issue you with a food hygiene rating. If you'd like to learn more about what to expect from an EHO visit, you can do so in our article, here .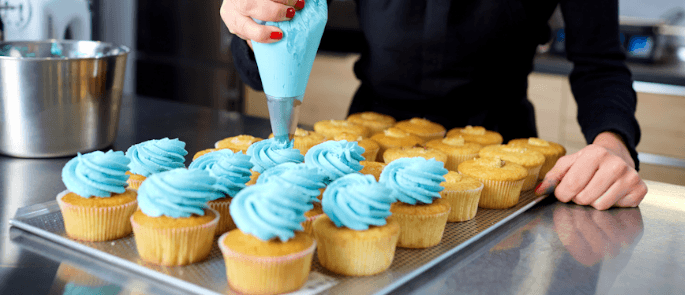 Food safety is immensely important, and you must do everything in your power to ensure that you follow all the guidelines. By law, all food handlers must have an understanding of the basic principles of food hygiene and know how to protect the food they serve from contamination.
Need a Course?
Our Level 2 Food Hygiene and Safety for Catering training course is designed to help learners understand the basics of food hygiene so they can work safely, comply with the law, minimise contamination and ensure the food they handle is safe for consumers to eat. Our range of HACCP courses cover everything you need to implement an effective food safety management system.
A vital part of food safety is having a sound knowledge of allergens. All food businesses have a duty to protect their customers from the risks allergens can present.
Any food has the ability to cause an allergic reaction, however, certain foods are more likely to cause a reaction than others.
There are 14 named food allergens which, by law, must be declared if they are used as an ingredient in a food product.
Conducting an allergen risk assessment is a key way to ensure you are complying with regulations. As you are legally required to provide allergenic information on your products, an allergen risk assessment may be the easiest way for you to identify where allergens occur in dishes, where the risks of cross contamination are and how you can best mitigate the risk. We have created a free, downloadable allergen risk assessment which you can find here .
We also have free and downloadable allergen labels for you to use. These are quick and easy ways to communicate allergens with your customers and reassure them that you are dedicated to food safety.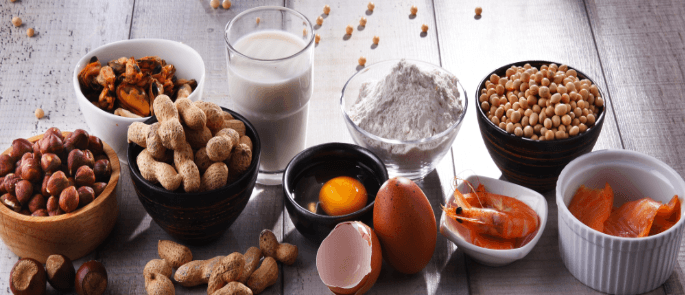 Food labelling is another crucial part of food safety. There are regulations regarding certain information that must be displayed on labels, and also specific allergen regulations for distance sellers. Distance selling is the indirect selling of products rather than directly to customers over a counter or face to face. Therefore, if you're selling food online – via a Facebook or Instagram page, for example, you are a distance seller.
You must be able to provide allergen and intolerance information for your customers, especially with the introduction of Natasha's Law , including any 'may contain' cross-contact allergens which you also handle. To find out more about precautionary allergen labelling, check out our article, here .
You'll also have to decide how you're going to package your cupcakes, and which materials you'll use. For more information, check out our article: ' What are the Different Types of Sustainable Food Packaging? '.
Food Allergen Awareness
Our Food Allergen Awareness training is designed to help food handlers identify and label allergens in order to ensure their customers remain safe from harm.
It's also vital that you have a well-equipped kitchen before you can open your cupcake business – even if you're planning to bake at home rather than in a commercial kitchen.
Here are our Top 10 Essentials for all cupcake makers:
A good quality food mixer.
Non-stick cupcake trays (enough to do at least 2 batches of cupcakes).
Digital scales for accurate measuring.
Cooling racks.
Measuring spoons for accuracy of ingredients.
Mixing bowls.
Wooden spoons.
Rubber spatula for easier handling of cake mixture and icing.
Cupcake cases.
A good oven.
When it comes to deciding what you'll need to decorate your cupcakes, check out our article for inspiration: ' Cake Decorations: Which Flowers are Edible? '.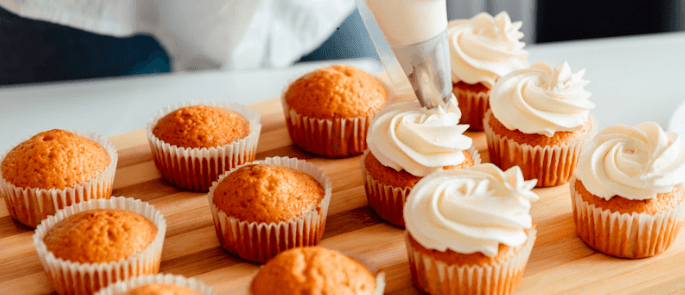 Marketing Strategy for Cupcake Business
So you've got all the planning, practising and legal arrangements out of the way, now it's time to begin outlining your marketing strategy.
How will you sell your cupcakes? How will you get the word out so that people know who you are? Advertising is key for the promotion of your business.
Think about what kind of media you want to use for your marketing; are you trying to project a particular kind of image to your target audience?
Traditional marketing options include:
Advertising on websites or having your own website.
Word of mouth.
Handing out free samples.
Designing business cards and letterheads.
Holding a stall at trade shows or fairs.
Using signage and packaging with your logo on.
For more ideas, check out our article: ' How to Market your Food Business Online '.
Approximately 53 million people in the UK are currently using some form of social media, and marketing and social media go hand-in-hand. Social media offers you the opportunity to promote your brand to a wider audience much faster than traditional marketing could. This is important because getting brand recognition is one of the most vital goals in marketing a business.
Home food businesses – especially those who are just getting started – might be put off with the cost of traditional marketing. However, social media is available to everyone, regardless of their budget.
Social media is flexible, too. Most people in the UK possess some kind of smartphone. This means you can have all of your social media accounts linked to your phone, so you can post and comment at any time of the day. Not only are you able to reach your current audience by creating a social media account, but you are also able to reach potential customers that you might not have otherwise.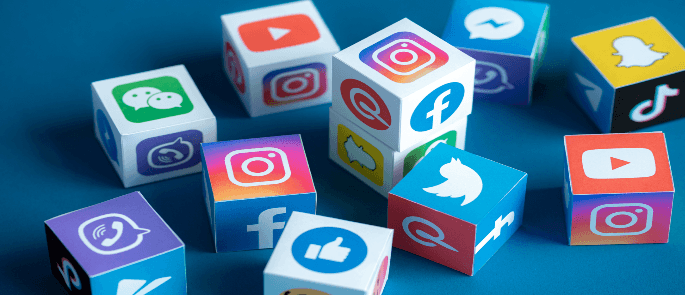 With a plethora of increasing social media platforms out there, it can be confusing as to which you should use. After all, every platform is slightly different and appeals to a certain type of demographic. They each have their own unique style and benefits. However, not every platform will suit the brand you're trying to build.
It might be helpful to explore each of these platforms in order to work out which one will suit your business and brand the most.
We have articles dedicated to exploring marketing on specific social media platforms which you can find in the list below:
How to Use Facebook for Marketing your Home Food Business Safely
How to Promote Your Food Business on Instagram
How to Use TikTok for Marketing Your Food Business
How to Sell Food on Etsy
We wish you all the best in your cupcake business venture! If you have any further questions about the topics discussed in this article, don't hesitate to get in touch with us at High Speed Training. You can contact our friendly team on 0333 006 7000 or email [email protected].
Further Resources:
Starting A Home Food Business
Cake Decorations: Which Flowers are Edible?
Food Packaging Materials: Regulations & Different Types
How to Start a Street Food or Food Truck Business
How to Start a Food Business From Your Home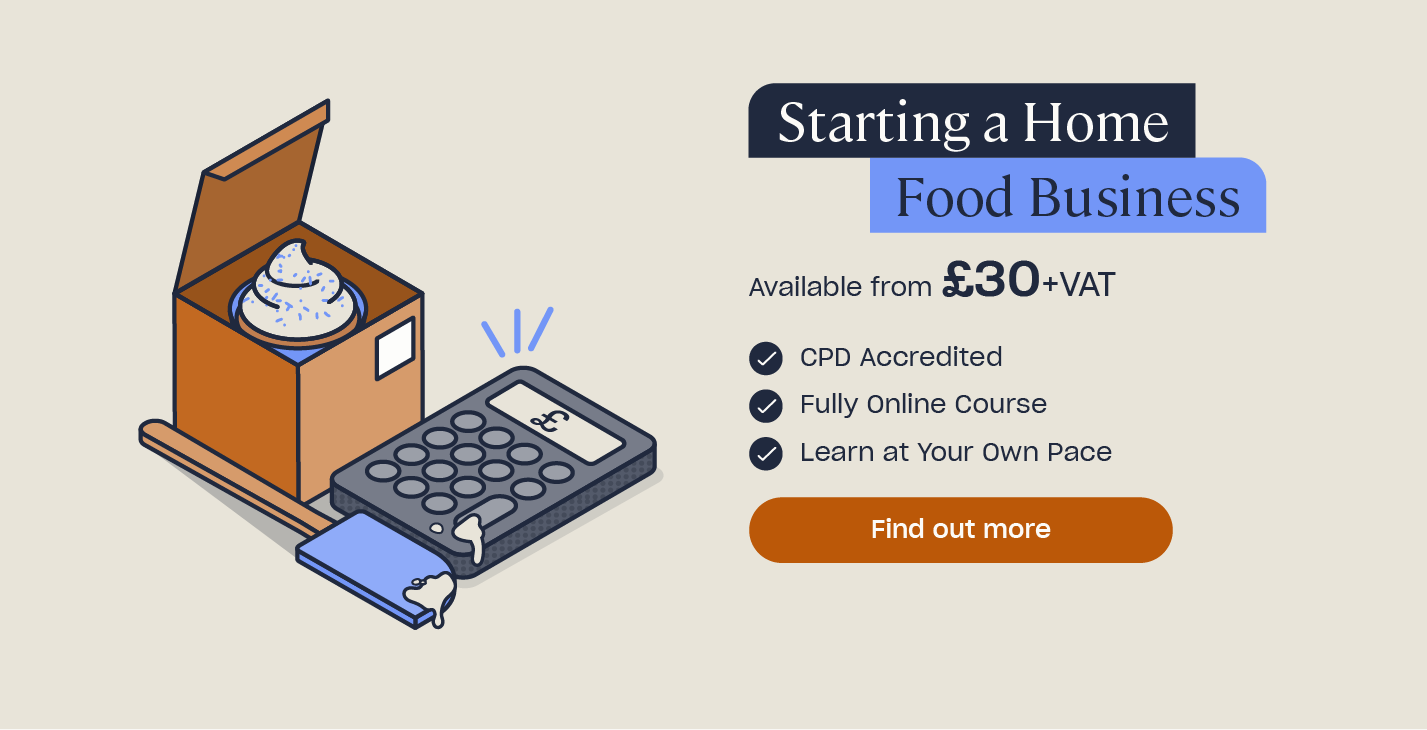 Post Author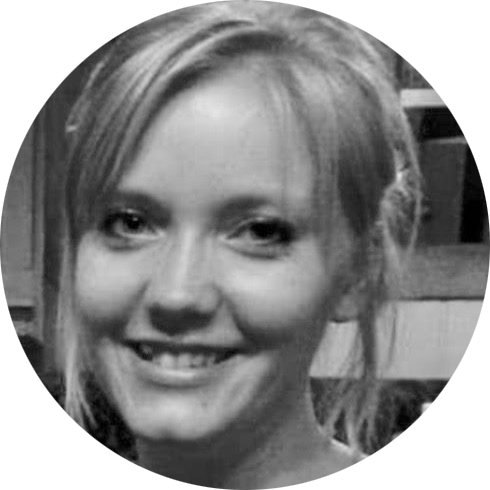 Her favourite article is Ideas for Starting a Food Business From Home
You may also like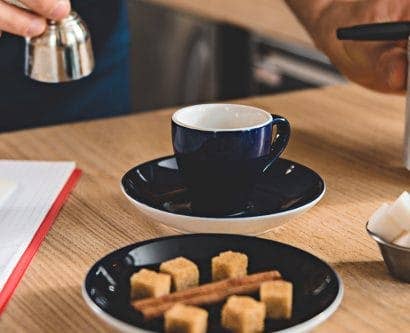 How to write a business plan for a cupcake shop?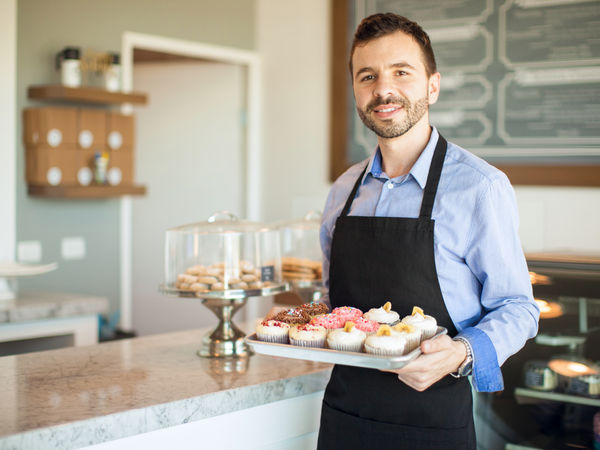 Writing a business plan is an important step in the process of setting up and running a successful cupcake shop.
Whether you're starting up or looking to grow your existing business, a well-crafted plan can help ensure that your goals are met.
Luckily for you, this in-depth guide will cover everything you need to know about writing a business plan for a cupcake shop.
We'll explain why it's important to write one and what information should be included in it. Plus, we'll share with you some useful tools that can help make the process easier and faster.
Ready? Let's get started!
On the menu:
Why write a business plan for a cupcake shop?
Information needed to create a business plan for a cupcake shop, what goes into your cupcake shop's financial forecast, the written part of a cupcake shop business plan, what tool should i use to write my cupcake shop business plan.
There are several reasons to write a cupcake shop business plan. Below, we cover some of the most important ones!
To draw up a roadmap
Writing a business plan for a cupcake shop is an essential step in the process of starting or expanding any small business. It forces entrepreneurs to think ahead and set objectives that will guide them over the next 3 to 5 years.
This kind of strategic planning is just as important for existing businesses that are already up and running, as it helps them stay focused on their goals and track their progress.
A well-crafted business plan can help cupcake shops stay profitable by ensuring they make smart decisions about pricing, marketing, product development, staffing needs and more.
By taking the time to create a thorough business plan from the outset, you can minimize risks and maximize your chances of success in the competitive world of baking.
To compare financials
It also enables you to regularly compare your financial performance to what was planned and recalibrate your financial forecasts accordingly.
This helps ensure that your business stays on track with your original plans and lets you make adjustments in order to maximize profitability and growth.
By taking this proactive approach, you'll be better prepared for any potential obstacles you may face along the way and will likely have greater success in achieving your long-term goals.
To raise funding
Whether you are a startup or an existing business, writing a cupcake shop business plan is essential when looking for financing from banks.
Banks will use it to evaluate your ability to repay the loan and ensure that you have considered all aspects of running a cupcake shop.
As a result, assurance is provided to the lender that they will be paid back on time and with interest.
Investors want to be sure that their investment will yield a good return and so they will look closely at the projections of growth, profitability and cash generation presented in the business plan.
It also provides evidence that you understand the industry and market trends well whilst outlining the fact that you intend to manage your finances responsibly.
Now that you know why it's important to create a business plan for a cupcake shop, let's take a closer look at what information is needed in order to create one
Create your cupcake business plan online!
Think your cupcake business could be profitable? Find out how with a business plan!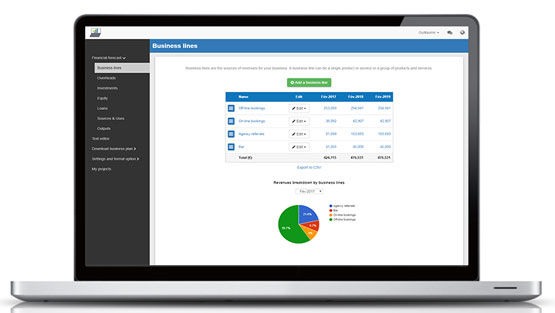 Writing a cupcake shop business plan requires research so that you can project sales, investments and cost accurately in your financial forecast.
In this section, we cover three key pieces of information you should gather before drafting your plan!
Carrying out market research for a cupcake shop
Before writing a business plan for a cupcake shop, it is important to carry out market research. This will provide valuable insights into the potential customer base and help you accurately forecast revenues.
It can also give you an understanding of your competitors, enabling you to develop strategies that differentiate your product or service from those of others in the area.
Additionally, market research can reveal trends in consumer tastes and preferences which can inform decisions about menu items and pricing.
All these factors combined will ensure that your business plan reflects reality as much as possible.
Developing the marketing plan for a cupcake shop
Budgeting, sales and marketing expenses is all essential before creating a cupcake shop business plan.
A comprehensive marketing plan helps ensure that the right amount of resources is allocated to marketing activities.
This plan should provide an accurate prediction of how much needs to be spent on promotions, advertising, public relations and other initiatives in order to hit your sales objectives.
The staffing and equipment needs of a cupcake shop
When starting a cupcake shop, it is important to have a clear plan for recruitment and budgeting in order to ensure the success of the business.
It is essential to create a realistic financial forecast by considering all investments and expenses associated with running the shop.
This includes costs of hiring staff, purchasing ingredients, renting or buying a storefront or kitchen, and any other costs related to the operation of the business.
By understanding these expenses ahead of time, entrepreneurs can create a clear budget for their cupcake shop.
Although thorough financial planning may seem tedious at first, it is essential for the success of any business venture.
Now that you have all the necessary information to create a business plan for your cupcake shop, it is time to move on to creating a financial forecast. A financial forecast will help you determine how much capital you need and predict future profits and expenses.
It will also help you evaluate the viability of your venture and identify potential risks associated with starting up a cupcake shop.
Creating a financial forecast for a cupcake shop involves producing the following key financial tables:
Profit and loss statement (P&L),
Balance sheet,
Cash flow statement,
Sources and uses table.
Let's take a closer look at each of them.
The projected P&L statement
A forecasted profit and loss statement involves projecting expected costs and revenues over a certain period (usually 3 or 5 years) to determine whether or not your business idea is profitable.
Revenues are the money coming in from cupcake sales, while expenses are the money going out to produce those cupcakes (both direct and indirect).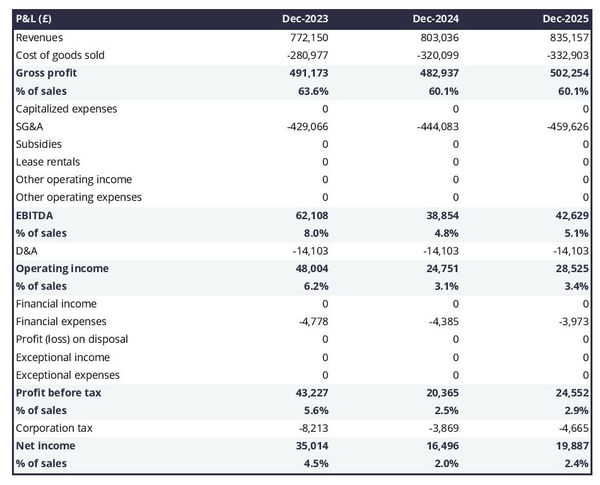 Expected costs may include overheads such as rent, insurance and marketing.
Projected P&L statements can help a cupcake shop identify opportunities for growth and areas where they need to cut costs to maximize their profits.
By having an accurate and up-to-date projected P&L statement, you'll be able to make informed decisions that will help your business's long-term success.
The projected balance sheet of your cupcake shop
A cupcake shop balance sheet provides a quick snapshot of your business's financial health at a given point in time.
A balance sheet typically consists of two columns, one for assets and one for liabilities. This allows you to easily compare your current financial situation in terms of what it owns (assets) and what it owes (liabilities).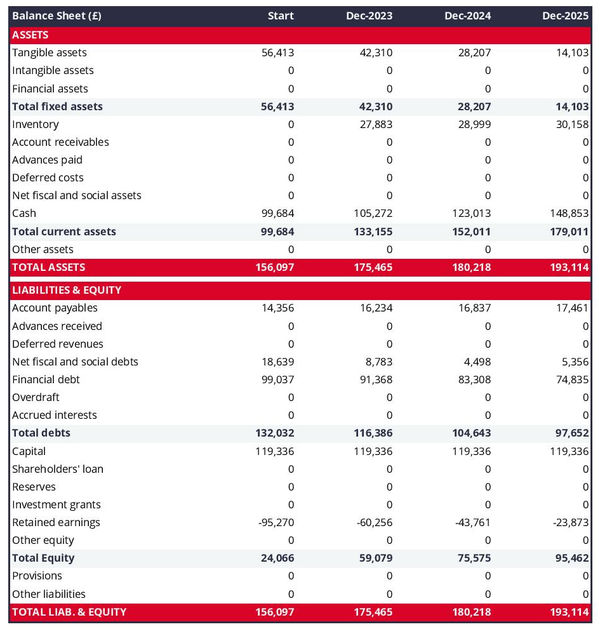 Lenders use it to determine whether or not your business has the ability to repay debts as they fall due based on key liquidity and solvability ratios.
Similarly, investors use it to decide whether your financial position is strong enough for them to generate a good return compared to other projects on the market.
Looking at your balance sheet is a great way to gain insight into the financial performance of your cupcake shop and identify areas that need improvement.
By understanding your balance sheet, you'll be able to make informed decisions about how to better manage your business.
The projected cash flow statement
A cash flow statement is a tool used to plan the money coming in and going out of a cupcake shop.
It helps you figure out how much money you will have at the end of each month. This can be useful because it lets you know if your shop has enough money to cover all its expenses, like cupcake ingredients, workers' wages, rent, utilities and more.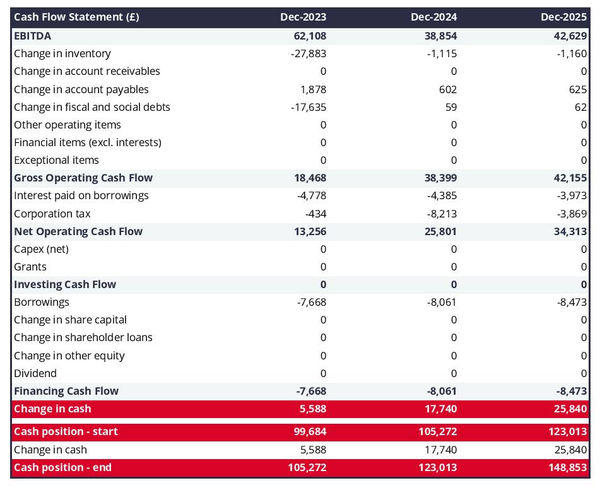 The cash flow statement also shows when you make more money than usual so that you can save up for special occasions or future purchases. Having this information in advance can help keep your cupcake business on track!
The initial financing plan
An initial financing plan, also called a sources and uses table, is a helpful tool when starting a cupcake shop.
It shows where money is coming from and how it will be used. For example, you might need to buy ingredients for the cupcakes, rent space for the shop and hire people to help bake them.
Your sources of money could come from investors or your own savings. The uses table will show how much money needs to be spent on each item.

Now that we have discussed the financial forecast for your cupcake shop business plan, it is important to provide the context contained in the written part of your plan.
This will help readers understand and judge whether or not the financial forecast is relevant. Let's take a look at what should be included in this section.
The written part of a cupcake shop business plan is composed of 7 main sections:
The executive summary
The presentation of the company
The products and services section
The market research analysis
The strategy section
The operations section
The financial plan
Creating a successful cupcake shop business plan requires careful consideration of all the different components.
Let's go through each section in more detail!
1. The executive summary
The executive summary section in your cupcake shop business plan should provide an overview of the business, the target market, and key financials.
Begin by outlining what your business does and the products that it provides. You should also state any goals that you have and explain briefly how you plan to achieve them.
You should then provide an overview of the target market, including its size and demographics, customer needs and consumption habits, competition, and any other factors that might influence demand.
Finally, provide information regarding key financials for the first three years. Investors or lenders will also expect to see the amount of funding that you are requesting from them.
2. The presentation of the company
When writing the presentation section of your business plan, it is important to include information on the structure and ownership of the business.
This means outlining who owns the cupcake shop and what kind of legal structure it has (such as sole proprietorship or LLC).
It is also important to include details about the shop's location, such as its address, how accessible it is to customers, and what kind of foot traffic it receives. For example, you might have decided to set up your cupcake shop inside a busy train station to maximize visibility.
Finally, this section should also introduce your management team, outlining their qualifications and experience in running a cupcake shop. This will help investors recognize that you have the right people in place to make your dream a reality.
All of this information should be clearly outlined and easy for potential partners or investors to grasp. By having all the necessary facts about your business laid out clearly, you can ensure that potential partners have a comprehensive understanding of what you are proposing.
3. The products and services section
When writing the products and services section of your cupcake shop business plan, you should include a detailed list of the types of cupcakes you offer.
This should explain the different flavors you have, cupcake sizes, additional toppings available, and any other options that make your product unique.
Additionally, you need to explain how these items will be made available for customers (such as in-store pickup or delivery services).
It is also important to articulate what separates their cupcakes from others on the market so potential investors can see why it is worth investing in this particular venture.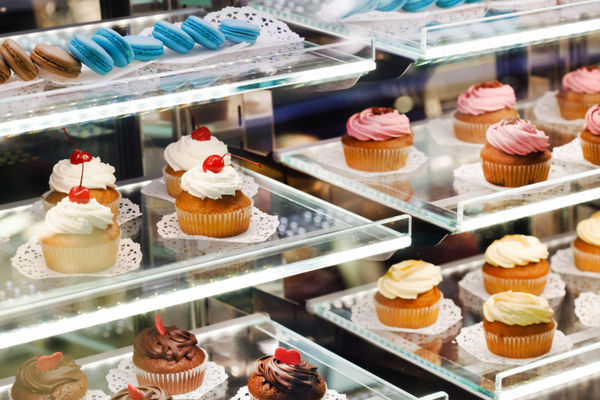 4. The market analysis
In this section, you should start by giving a detailed overview of both the local and national markets. Give insights into how they have performed in the past, any trends and how the future might look like.
It's also important to include vital information about the demographics and segmentation of your target customers.
Do this by summarizing who makes up your customer base (their profile in terms of age, gender, income etc.), what they are looking for, and how they can be reached.
Additionally, information on any potential competitors and barriers to entry will help to paint a picture of the current landscape so that investors or banks can understand if this venture has potential.
For a cupcake shop, direct competitors might be other cupcake shops in the area. Indirect competitors might include bakeries, cafes or even catering companies that offer a variety of cupcakes in bulk supply.
Lastly, details regarding regulation must also be included in order to demonstrate compliance with applicable laws.
5. The strategy section
The strategy section of a cupcake shop business plan is an important part of convincing potential investors or lenders that the business has a clear vision and direction for success.
This section should include information about the competitive edge, pricing strategies, marketing plans, milestones, and risks and mitigants associated with the venture.
For example, when it comes to competitive edge, it will be important to outline how the brand stands out from other similar businesses in terms of product quality (better raw materials such as flour or sugar for example) or customer service.
Additionally, the pricing strategy should address whether prices are set at market rate or slightly lower in order to draw more customers.
The marketing plan could involve advertising on social media platforms as well as traditional methods such as flyers or mailers. If you have a website or blog, it's best to mention this as well as both can help increase the number of customers who visit your cupcake shop.
Milestones should include both short-term goals such as increasing sales by 10% within six months and long-term objectives like expanding into two new locations over five years.
Finally, risks and mitigants must be addressed so that investors can understand how these issues may affect their return on investment and what measures are being taken to mitigate them.
6. The operations section
The operations section of a cupcake shop business plan serves as an essential tool for outlining recruitment, resources and processes that will help ensure the success of the business.
In order to secure financing from a bank or investor, it is important to provide detailed information about the staffing team, opening hours, key assets and intellectual property, as well as any suppliers the shop plans to work with.
When writing about staffing, you should clearly outline the roles of each staff member, as well as a recruitment plan that lists how and when you intend to hire your team.
The business plan should also include information about opening hours. This includes details about when your cupcake store will be open, any changes in operating hours based on seasonality, or holiday closures.
Next, it is important to list the key assets and intellectual property that the business needs in order to operate. This could include things like baking equipment, ingredients, IT systems and software, customer service approaches and more.
Finally, you should also include a list of suppliers with whom you plan to work in order to obtain your ingredients and other products. You might have chosen to work with a particular supplier because you have previous history with them. If this is the case, you should mention it in your business plan.
By providing detailed information on the operations of your cupcake shop in a business plan, you can show potential investors that you have a solid foundation for success.
With an effective staffing team, opening hours and key assets and intellectual property, as well as reliable suppliers, you can create an operational structure that will allow your business to thrive.
7. The presentation of the financial plan
The financial plan section of the guide is where you should include the financial forecast that we talked about earlier.
Now that we have a better understanding of the content and structure of a cupcake shop business plan, let's look at some of the tools available to help you create it.
In this section, we will review three solutions for creating a business plan for your cupcake shop: using Word and Excel, hiring a consultant to write the business plan, and utilizing an online business plan software.
Create your cupcake shop's business plan using Word or Excel
Creating a cupcake shop business plan using Word or Excel has both pros and cons. On the one hand, using either of these two programs is cheap and easy to learn.
However, creating an accurate financial forecast with Excel can be difficult for a business owner without expertise in accounting and financial modeling. This is because there are likely to be multiple tabs spanning hundreds of rows, increasing the likelihood of errors. As a result investors and lenders might not trust the accuracy of your forecast.
Writing a cupcake shop business plan using Word means starting from scratch and formatting the document yourself once written - a process that can be quite tedious.
Ultimately, it's up to the business owner to decide which program is right for them and whether they have the expertise or resources needed to make Excel work.
Hire a consultant to write your cupcake shop's business plan
Outsourcing your cupcake shop business plan to a consultant or accountant can be a viable option, but it also presents certain drawbacks.
On the plus side, consultants are experienced in writing business plans and accountants are adept at creating financial forecasts without errors. Furthermore, hiring a consultant can save you time and allow you to focus on the day-to-day operations of your business.
However, accountants often lack the industry expertise to accurately forecast sales and hiring consultants or accountants can be an expensive proposition which may require additional investments.
You probably need to budget at least £1.5k ($2.0k) for a complete business plan, more if you need to make changes after the initial version (which happens frequently after the initial meetings with lenders).
For these reasons, outsourcing the cupcake shop plan to a consultant or accountant should be considered carefully, weighing both the advantages and disadvantages of hiring outside help.
Ultimately, it may be the right decision for some businesses, while others may find it beneficial to write their own business plan using an online software.
Use an online business plan software for your cupcake shop's business plan
Another alternative is to use online business plan software . There are several advantages to using specialized software:
You are guided through the writing process by detailed instructions and examples for each part of the plan
You can be inspired by already written business plan templates
You can easily make your financial forecast by letting the software take care of the financial calculations for you without errors
You get a professional document, formatted and ready to be sent to your bank
The software will enable you to easily track your actual financial performance against your forecast and update your forecast as time goes by
If you're interested in using this type of solution, you can try our software for free by signing up here .
We hope that this article has helped you to better understand how to write the business plan for a cupcake shop. If you still have questions, do not hesitate to contact us.
Also on The Business Plan Shop
An ultimate guide on how to write the business plan for a coffee shop
An ultimate guide on how to write the business plan for a bakery
Know someone in the cupcake industry? Share this article with them!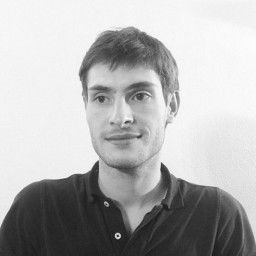 Founder & CEO at The Business Plan Shop Ltd
Guillaume Le Brouster is a seasoned entrepreneur and financier.
Guillaume has been an entrepreneur for more than a decade and has first-hand experience of starting, running, and growing a successful business.
Prior to being a business owner, Guillaume worked in investment banking and private equity, where he spent most of his time creating complex financial forecasts, writing business plans, and analysing financial statements to make financing and investment decisions.
Guillaume holds a Master's Degree in Finance from ESCP Business School and a Bachelor of Science in Business & Management from Paris Dauphine University.
Published on 13 Apr 2023 , last update on 14 Jul 2023 , as per our editorial standards .
Create a convincing business plan
Assess the profitability of your business idea and create a persuasive business plan to pitch to investors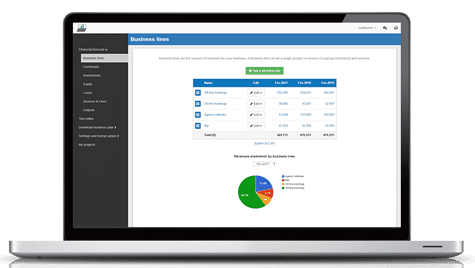 500,000+ entrepreneurs have already tried our solution - why not join them?
Not ready to try our on-line tool ? Learn more about our solution here
Need some inspiration for your business plan?
Subscribe to The Business Plan Shop and gain access to our business plan template library.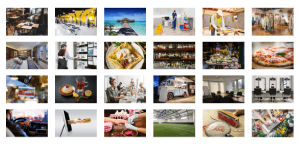 Need a professional business plan? Discover our solution
Write your business plan with ease!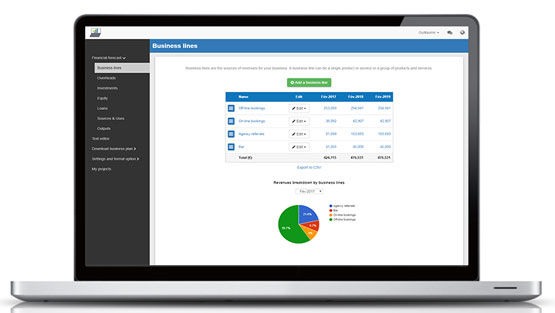 It's easy to create a professional business plan with The Business Plan Shop
Want to find out more before you try? Learn more about our solution here