Business insurance protects businesses from any financial loss or damage that occurred during the everyday operations of a company. A policyholder gets the coverage for risks related to employees, damage to property as well as legal liabilities. Such incidents can cause a major setback to your business. In several cases, it leads to partial or complete closure of the business leading to loss of income.
Get right expert advice
Hassle free policy
Speedy Claims
Get ₹5 Crore insurance cover starting at ₹25,000/year +
Get ₹5 crores insurance cover starting at ₹25,000 +
Thank you for showing your interest in business insurance . Our relationship manager will call you to discuss the details and share the best quotes from various insurers. In case you have any query or comments, please contact us at [email protected]
Quick & Hassle free
What is Business Insurance?
Business insurance is a kind of insurance that helps an enterprise to protect its financial assets, intellectual property and physical location from an unforeseen incident causing huge financial losses. It supports the insured business against any damage or loss arising out of incidents like natural disasters, thefts, vandalism, lawsuits, loss of income and employee illness, injury or death.
Why Should You Cover Your Business with Insurance?
It is vital for the owners of small enterprises to carefully take into consideration and assess the needs of their business as they have extensive financial exposure in case of any loss. If the owner of the business does not feel that they have the ability to assess business risk effectively and the need for insurance coverage, they must work with an experienced, licensed, and reputable insurance agent. Business insurance protects the SMEs from fire, theft, professional liability, general third party liability, compensation towards workers, medical expenses etc.
Types of Business Insurance:
There are several options available for coverage for businesses. The coverage your business requires depends on the things such as the industry, its location, number of employees, and size. It is probable that your insurance needs may change as the business grows.
Different types of business insurance policies are as follows:
Liability Policies
This policy helps your business bear the cost of liability claims arising from a third party bodily injury or property damage. In case any lawsuit is arsing against your enterprise you may be liable to pay huge legal fees. Without this cover, the entire expense will be on you. The most common liability covers include- general liability, public liability, professional liability and commercial umbrella insurance.
General Liability Insurance
General Liability Insurance is one of the basic business insurance policy that provides coverage against any liability cost arising out of loss or damage caused to a third party or property. It bears the cost of any legal liability arising out of a lawsuit which otherwise has to be paid by the owner of the business. Whether you operate from a professional space or from your house, you should definitely have general liability insurance.
Professional Liability Insurance
Professional Liability Insurance is the type of business insurance that provides protection against damages caused in the performance of a service. Also known as Errors and Omissions Insurance, it takes care of any losses that you may have faced because of negligence in rendering any services. Some insurance companies provide professional liability insurance that is specific to a certain profession. You can check with your insurance company to find the specific insurance that suits your profession.
Employee Insurance Policies
Also known as Workers' Compensation Plan, this policy under company insurance helps the business owner cover the expenses arising out of injuries or illness to employees. It also covers the legal cost faced by the business if a deceased family decides to sue the business. Even, in most countries, especially abroad, it is a mandatory buy.
Property Policies
If a business is not sufficiently insured against the property damage, the recovery cost will entirely on the owner. Commercial insurance helps the business owner pay the repair or replacement cost of any damaged property. The risk is higher in case of small business, where 40% of business never gets the chance to reopen after a disaster strikes. That's why you need this policy to protect your business property. It usually includes the physical location of the business, damaged tools, documents, assets or damaged caused by vandals.
Cover for Loss of Income
This policy helps the insured pay off the fixed costs if the business is unable to operate after a disaster.
Product Liability Insurance
If your business is into manufacturing, product liability insurance is necessary. It is useful in covering the expenses of a lawsuit arising due to damages caused by your products.
Vehicle Insurance
Any vehicle used for business should be insured. In India, it is mandatory to have third party insurance, be it a private or commercial vehicle. However, comprehensive insurance will provide end-to-end protection covering own damage as well. Nevertheless, if employees are using their private vehicles, their personal insurance will cover them during an accident or other damages.
Commercial Vehicle Insurance
Any vehicle that provides commercial services in a business should have a Commercial Vehicle Insurance. It provides protection against any damage caused to the vehicle or the driver or to a third-party in case of an unforeseen incident like a traffic collision, accident, fire, theft, etc. In India, third party insurance is compulsory for all vehicles plying on Indian roads. But to ensure complete coverage, business owners should opt for comprehensive vehicle insurance.
Business Interruption Insurance
This type of policy is designed for a business that requires a physical location such as retail shops. Business interruption policy comes in handy in case a business faces loss due to the circumstances that cause a commotion to the normal course of business. For instance, if a natural calamity or a riot makes it difficult for employees to come to work, it will lead to the business incurring losses. This type of business insurance policy helps to compensate for such losses.
There are also a few other types of business insurance that are specific to certain kinds of businesses and are tailor-made for their needs. For instance, petrol pump owners can opt for Petrol Pump Insurance, restaurant owners can choose Restaurant Insurance and warehouse owners can choose Warehouse Insurance.
Fire Insurance
Marine Insurance
Professional Indemnity Insurance
Workmen Compensation Policy
D&O Liability Insurance
Engineering Insurance
Office Package Policy
Commercial Insurance
Burglary Insurance
Cargo Insurance
Comprehensive Liability
Contractor's All Risk Policy
Contractual Liability Insurance
COVID-19 Group Health Plan For Contractual Workers or Employees
Group OPD and Wellness
Erection All Risk Insurance
E & O Insurance
Best Group Health Insurance
Group Insurance
Group Personal Accident Insurance
Group Travel Insurance
Group Life Term Insurance
Liability Insurance
Contractor's Plant & Machinery
Public Liability Insurance
Shop Insurance
Features of Business Insurance
Though having your business insured is not mandatory in India but it is necessary. Business insurance India comes with certain features that make the policy worth your money:
Damage to the property due to fire or natural disasters such as flood, earthquake, storm etc.
Loss due to theft
Business insurance covers third party liability on the business
Injury or death of an employee during the course of his/her work is covered
It covers the loss of profits after an outbreak of a calamity
Liability arising out of negligence and errors
Benefits of Business Insurance Policy
The benefits of Company Insurance plans are as follows:
Company insurance plan protects the business against losses due to an interruption of the normal course of the business by covering the disasters like fire or a natural calamity
It offers credibility to the company by getting its business insured
Group policies offered to assure the safety of the employees and help the employers retain the talents within the company. Eventually, it aids in more growth of the company.
These days clients also consider those companies that are well-insured with business insurance.
The physical assets of a business such as computers, furniture etc. are well-protected from theft if it is covered by a business insurance policy.
How to Buy Business Insurance India
Buying insurance can be interesting only if you follow the right process. If you are looking for business insurance, you can buy either online or offline. To go online, you must know who all are selling business insurance. Go to the official websites and go through the plans in detail. If you find anything that suits your requirements, next go to the compare option. Here you'll get a fair idea of how a particular plan works for your needs. you can get to know the different premiums and coverage offered by the insurers. The last step is to finalise one and pay the premiums online.
On the other hand, you can buy offline as well, by approaching the preferred insurance provider. This is the traditional way of buying insurance, which requires you to visit the branch, know about the plans and buy. You can buy even approaching an agent as well, provided he/she is well-versed with the product information and you are not being misled.
Things to Consider before buying Business Insurance Policy
While buying business insurance, you should consider factoring certain things:
Assess Your Risks
An insurance cover is offered after assessing the risk appetite of the applicant, otherwise, how will the insurer determine whether they are going to cover your business? Firstly, they estimate the level of risk your business is exposed to. This is called Underwriting where the underwriter reviews whether it will offer all or the portion of the coverage applied for. Every policy comes with a premium and deductible. Premium is the amount you pay for availing the policy benefits while deductible is a pre-decided amount that you agree to pay at the time of claim. Simply put, lower the deductible you pay, higher your insurance premium will be or vice versa.
So, only after assessing your risk, you can decide whether you can afford a higher deductible to save on your annual premiums.
Shop Around
Don't just buy whatever plan you get randomly. Shop around, do your research and buy. You can take help from online insurance aggregators in the process of suggesting plans.
Insurance Coverage
No doubt the extent of coverage varies insurer to insurer. While buying business insurance, you can take the help of experts who actually know the issues that may face by your business and buy accordingly. At times, insurance brokers can give you a fair idea. Whatever the situation, make sure the coverage offered is apt for the insurance needs of your business.
Approach a Reputable Agent ONLY
The principle of selecting a broker to buy company insurance is he should be authorised or reputable!
Make sure the person pitch you the right only, with sufficient knowledge about the product. He should be a person with whom you can clear your doubts. If not you can ask your family or friends using this policy. Go for online reviews of the users and buy.
Review Your Insurance Needs
With your business, the liabilities also go up. And you can't afford being uncovered during a disaster that may hugely affect your finances. Moreover, the cover you opted for at the initial stage of your business, may not suffice the current insurance needs. That's why it is necessary to assess the needs and let the insurer know in case you want additional coverage.
Other Types of Important Insurance
Petrol pump insurance.
This insurance designed for petrol pumps, CNG stations to offer optimum protection to the assets inside the petrol stations against the risks associated. This policy protects the properties, cash, assets etc. against fire, theft, natural disasters, burglary, legal liability, dishonesty of workers or other perils. The premium for Petrol Pump Insurance is calculated basis on the covers opted for and the values of the property or machinery.
Restaurant Insurance
However, not offered by many insurers in India, this policy is tailor-made in covering your business against the threats like, fire, act of God, malicious damage, riot, burglary, damage to property, loss of money, loss of money while in transit, physical loss of electronic equipments in the premise, machinery breakdown, personal accident, public liability and so on.
Professional Liability Insurance also referred to as  Professional Indemnity Insurance is designed to mitigate the legal expenses arising out of a professional lawsuit by a third-party. If a third party sustains any injury, damage or death due to the services offered by the professionals, the possibility of a lawsuit is higher. To bear those legal expenses, Professional Liability comes in handy. This policy can be availed by professionals including doctors, lawyers, Chartered Accountants, architects, organisational bodies such as law firms, hospitals, BPOs etc. Some of the insurers offering Professional Liability Insurance include ICICI Lombard, Bajaj Allianz, United India Insurance, National Insurance etc.
Bajaj Allianz
Future Generali
Wait! Didn't find what you were looking for?
Our certified business insurance experts are just a call away.
Your call has been scheduled successfully.
Disclaimers +
+ Premium varies on the basis of Occupancy, Business Activity & Coverage Type By clicking on "View Plans" you agree to our Privacy Policy and Terms Of Use and also provide us a formal mandate to represent you to the insurer and communicate to you the grant of a cover. The details of insurance coverage, inclusions and exclusions are subject to change as per solutions offered by insurance providers. The content has been curated based on the general practices in the industry. Policybazaar is not responsible for the factual correctness of these details.
Get ₹5 Crore cover starting at ₹25,000/year +
Car Insurance
Bike Insurance
Motor Insurance
Third Party Car Insurance
Third Party Bike Insurance
Travel Insurance
Life Insurance
Term Insurance Calculator
1 Crore Term Insurance
Term Return of Premium
Term Insurance for Housewife
Spouse Term Plan
Term Insurance
Term Insurance For NRI
Best Term Insurance Plan
Term Insurance for Women
No Cost Term Insurance
Term Insurance Glossary
Investment Plans for NRIs
Pension Plans for NRIs
Guaranteed Return Plans for NRIs
Child Plans for NRIs
Investment Plans with High Returns
Money Back Policy
Endowment Policy
Tax Saving Plans
Saving Plan
Investment Funds
Income Tax Calculator
SIP Calculator
NPS calculator
FD Calculator
Health Insurance
1 Cr Health Cover
Family Health Insurance
Senior Citizen Health Insurance
Coronavirus Insurance
Corona Kavach Policy
Corona Rakshak Policy
Arogya Sanjeevani Policy
D&O Insurance
Workers Compensation
Cancer Insurance
Home Insurance
Customer reviews
Insurance companies
Legal & Admin policies
Verify your advisor
Payment Methods
Secured With
Follow us on
"Policybazaar for Business" is a brand under Policybazaar Insurance Broker Private Limited | CIN: U74999HR2014PTC053454 | Registered Office - Plot No.119, Sector - 44, Gurgaon, Haryana - 122001 | Registration No. 742, Valid till 09/06/2024, License category- Direct Broker (Life & General)
Policybazaar Insurance Brokers Private Limited CIN: U74999HR2014PTC053454 Registered Office - Plot No.119, Sector - 44, Gurgaon - 122001, Haryana Tel no. : 0124-4218302 Email ID: [email protected]
Policybazaar is registered as a Direct Broker | Registration No. 742, Registration Code No. IRDA/ DB 797/ 19, Valid till 09/06/2024, License category- Direct Broker (Life & General)
Visitors are hereby informed that their information submitted on the website may be shared with insurers.Product information is authentic and solely based on the information received from the insurers.
© Copyright 2008-2023 policybazaar.com. All Rights Reserved.
SMEs Insurance
Different businesses in various industries service customers as per their needs and preferences. Therefore, customers and their requirements can be met and secured in many ways. However, when it comes to protecting an enterprise, commercial insurance or business insurance is specifically designed to cover the losses that the business may face.
In India, small and medium enterprises, also known as SMEs, are always growing in number. To support their growth and boost their operations, Tata AIG offers flexible business insurance policies so that SMEs and other similar businesses can protect themselves and their capital from major losses!
Types of Commercial Insurance
There are different types of commercial insurance that one can choose to secure their sme against heavy losses and damages caused by unexpected risks and situations:, marine cargo insurance.
Many businesses need to transport their cargo/goods from one destination to another, through roadways, railways, airways, by sea or by courier. In case the cargo/goods are damaged while being transported, Marine insurance can cover such losses and damages. This way, the insured need not pay for damaged or lost goods from their pocket.
Group Health Insurance
At Tata AIG, we offer an all-encompassing Group Health Insurance policy for your employees to cover them against accidents, illnesses, and other medical emergencies.
Fire & Burglary Insurance
When operating a business of any kind, getting Fire Insurance and Burglary insurance is crucial to protect against financial losses. With Tata AIG, you can access flexible Fire and Burglary coverage against a wide range of risks and perils.
Public Liability Insurance
This type of coverage comes under liability insurance and covers your business against third-party losses. Hence, if a third-party person is injured or a third-party property is damaged while on your premises, you can be secured against their claims. You can add this coverage to your Tata AIG Package Insurance plan as an add-on cover.
Why Choose Tata AIG?
Tata AIG offers a range of features and benefits in business insurance when it comes to securing small or medium enterprises. These are some of the reasons why a Tata AIG business insurance policy should be your choice:
Plan Options
We offer a range of SME insurance policies that our customers can choose from and pay reasonable premiums as per their needs.
Claim Settlement Ratio
Tata AIG has recorded a claim settlement ratio of -, proving our steadfast commitment to our customers.
Trust and Reliability
With over 20 years in the insurance industry, Tata AIG is a trustworthy brand offering quality products and services to its customers.
Customer Service
With a family of over 5 crore customers, we are keen to serve everyone's SME insurance needs with customised solutions.
Swift Processes
Starting from the policy purchase to the claim settlement, we offer a quick and easy online process for all your needs.
Why Do You Need Commercial Insurance?
Commercial insurance is an essential requirement for small and medium businesses operating in India. Here are some reasons why SMEs need commercial insurance in India:
Security against Financial Losses
Business insurance offers protection against risks such as thefts, fires, accidents, and also natural disasters. A small business can handle these financial risks and protect all its assets with sufficient insurance coverage. The Tata AIG Shop Insurance policy covers a number of damages under the Standard Fire and Special Perils coverage.
Legal Compliance
Though business insurance itself is not a legal mandate, employee compensation insurance is mandatory in India. If you own an SME, you can consider getting employee compensation insurance. You can also add a workmen's compensation or a personal accident add-on to your Tata AIG policy to ensure your employees' safety.
Business Steadiness
The coverage of a commercial insurance policy secures a company's losses, enabling them to move forward without any major roadblocks. In case of major losses, small businesses can resume their operation rapidly after recovering the losses.
Business Credibility
Partners, vendors, investors, and any other company stakeholders can trust your business better when they know it is protected against losses. This increases the business's credibility.
Commercial insurance may not be a compulsory requirement; however, without adequate insurance coverage, your business becomes susceptible to a range of unexpected risks and hazards. Hence, business insurance that meets your company's or enterprise's needs is essential for its growth.
Benefits of commercial insurance, when an insurance policy protects your sme against different risks and hazards, it helps you focus on growing your business. below are some of the important benefits of having business insurance:, secures your enterprise.
Business insurance covers losses to your company arising from thefts, any employee's sickness, death or injuries, legal liabilities, and other situations that may cause a major loss.
Third-Party Liability
In case a third-party person is injured during your business hours on your premises, third-party liability insurance can protect you from the losses incurred in compensating for their damage.
Risk Management
With business insurance coverage, it becomes easy to manage the impact of certain risks and unforeseen events that may cause losses to your business property and its assets.
Secures Your Employees
A business insurance cover can also offer your employees health benefits and related coverage in the form of health plans. This way, they can look after your business better while you look after their well-being.
Lawsuit Cover
In the event that your insured business needs to undergo some legal proceedings due to a dispute or allegation, the business insurance coverage can cover the losses caused by the claims filed.
Protection from Natural Disasters
If a fire or any other natural disaster like an earthquake causes damage to your small or medium business property, your business insurance policy will secure you against these losses.
Increases Credibility
Though this is not a direct benefit of business insurance, having such a policy is the mark of a safe and responsible business. Therefore, various stakeholders are more likely to trust your enterprise.
For additional coverage, you can also choose from the following optional covers available on the Tata AIG Package Insurance policy:
Burglary cover, money in safe cover, money in transit, electronic equipment, portable equipment, machinery breakdown, plate glass cover, workmen's compensation, personal accident, public liability, fidelity guarantee, who should buy commercial insurance, small to medium businesses.
If a small or medium enterprise suffers losses due to unexpected risks, covering these costs can be quite a hassle. Therefore, SMEs should opt for commercial insurance.
New companies and startups have limited assets and resources and may not be able to tackle damages and losses to the company. With business insurance, a startup can protect itself financially.
Contractors
During a construction project, contractors are mainly responsible for injuries or bodily harm to employees. Hence, they need commercial insurance to protect themselves against these liability claims.
Service Providers
Businesses that offer marketing services, consultancy, and other similar services should secure themselves with commercial insurance coverage to protect their businesses.
Why is it Important to Buy Commercial Insurance?
Commercial insurance protects your business in a number of ways. here are some of the important reasons why you should buy commercial insurance for a small-and-medium business:, smooth business operations.
Any loss or damage can majorly disrupt the daily operations of small businesses. However, with adequate insurance coverage, these damages can be properly compensated, which allows your business to run smoothly.
Security Against Uncertainties
Small and medium businesses are known to grow rapidly. However, some unforeseen risks and situations can slow down the potential of your business. Commercial insurance for SMEs is meant to secure this risk.
Cost-effective Options
Commercial insurance policies are designed to suit the needs of different small businesses across various industries. You can pay very reasonable premiums to secure your small or medium enterprise.
Peace of Mind
Commercial insurance to protect your small or medium business ensures that you can focus on the operations and growth of the business. Once you determine the coverage needed for your small business, you can be at peace knowing that it is secured by insurance.
Frequently Asked Question
Do all small businesses need to have insurance.

All categories and types of businesses need to have insurance coverage to protect the business and the property from different losses. In the case of small and medium enterprises, which are especially common in India, a business insurance cover can ensure that the interests of small and medium-sized businesses are protected.
How to select the coverage for a business insurance policy?
To understand how much coverage you should opt for under your business insurance policy, calculate the cost of your small or medium business, including the inventory, business property cost, rental costs and any other overhead costs. These estimations can help you select sufficient insurance coverage for your business.
Is it compulsory to have insurance coverage for a small business?
There is no legal mandate in India stating that business insurance is a must for small businesses. However, to secure your own interests and to protect your enterprise against losses and damages, you should have business insurance.
2008, Tata AIG General Insurance Company Limited, all rights reserved. Registered Office : Peninsula Business Park, Tower A, 15th Floor, G.K.Marg, Lower Parel, Mumbai - 400 013, Maharashtra, India. CINNumber : U85110MH2000PLC128425. Registered with IRDA of India Regn. No. 108. Category of Certificate of Registration: General Insurance. Insurance is the subject matter of the solicitation. For more details on benefits, exclusions, limitations, terms and conditions, please read sales brochure / policy wording carefully before concluding a sale. Toll Free Number : 1800 266 7780 / 1800 22 9966 (only for senior citizen policy holders). Email Id – [email protected] .
2008, Tata AIG General Insurance Company Limited, all rights reserved. Registered Office : Peninsula Business Park, Tower A, 15th Floor, G.K.Marg, Lower Parel, Mumbai - 400 013, Maharashtra, India. CINNumber : U85110MH2000PLC128425. Registered with IRDA of India Regn. No. 108. Insurance is the subject matter of the solicitation. For more details on benefits, exclusions, limitations, terms and conditions, please read sales brochure / policy wording carefully before concluding a sale. Toll Free Number : 1800 266 7780 / 1800 22 9966 (only for senior citizen policy holders). Email Id – [email protected] .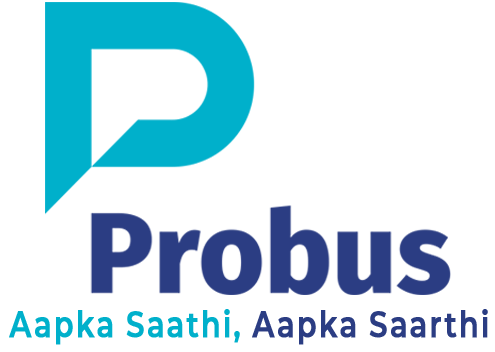 Probus Insurance
Business Insurance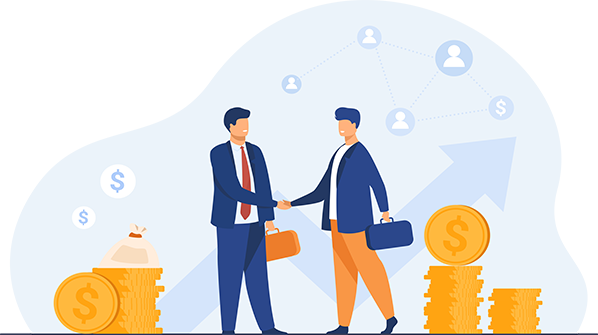 Compare Business Insurance
What is business insurance.
It's pretty difficult to handle business with the number of risks coming at each stage, managing finances and employees at the same time. If any unforeseen situation arises due to any natural or man-made perils, the situation gets even worst.
What will the business owner do under this situation?
The best preventive measure of facing this situation is to be insured beforehand with an optimal business insurance plan.
The reason behind opting for this plan is that it keeps you financially equipped under unpredictable circumstances like fire, natural/man-made perils. By insuring your business with this plan, you need not worry about the financial losses your company would face as a result of the disaster.
However, with the increasing number of insurers in the market, one must be careful enough to find the best fit for your company's requirement.
Moreover, the business insurance plan not only offers coverage to big companies but also have distinct plans for small scale industries.
Key Benefits of Business Insurance
Buying a business insurance plan is although not mandatory, however, it can be a perk owing to the below mentioned key benefits associated with this plan:
This plan offers credibility to your company by getting your business insured
It protects your business against any losses due to natural or man-made perils
Group policies that assure the safety of the employees are one of the factors that help to retain the talents within the company and also motivates them to perform
Clients prefer companies that are well insured with such plans
Compensates loss of income
Also, if your business is well protected with the business insurance plan physical assets such as machines, furniture, electronics and more are also protected
Who Should Buy Business Insurance?
Business Owners having their own premises
Business owners having their own premises are highly suggested to go with a business insurance plan. The reason behind this is that if there is a massive loss or income resulting from the fire or other catastrophe which disrupts the normal functioning of the business then this plan will save your boat from sinking. The plan will cover the damage caused to your premises in event of unfortunate situations.
Business Owners running business on rented premises
Talking for the business owners who run their business on rented premises, this plan is a wise pick for them as well. For instance, a business owner runs a metal production factory on a rented premises. The workers fail to fix the leaking machine and leave for the day locking up the premise. After some time, the leakage ignites and spreads to the floor and walls of the premises. Here, the business owner has to pay for the loss/ damage caused to the premise. The liability cover will help the business owner pay the losses caused to the rented premises.
Types of Business Insurance
Group Health Insurance
A famous saying goes, Health Is Wealth, and everyone attempts various methods to maintain their health. In life, there are no fixed patterns, and this leads to bodily injuries or illnesses which brings strain financially and physically. Therefore, one needs to insure self with a medical insurance policy.
Group Personal Accident Insurance
Group Personal Accident Insurance is apt for any organizations or employers, who seek to protect or ensure his/her staff against total disability, or accidental death or partial disability.
Group personal accident insurance is considered as comprehensive protection that can be bought for groups irrespective large or small. This insurance can be mainly applicable to Schools colleges or large organization or corporate.
Workmen Compensation Insurance
The workmen's compensation insurance is the prime process by which the employer meets the obligation as imposed by law. It is compensation payable under a scheme set out in the Workmen's Compensation Act of India, monitored by the Ministry of Labor. The policy covers the constitutional obligation of an employer for death or bodily injuries caused to employees due to accidents arising out of and throughout the sequence of employment.
Fire Insurance
Fire Insurance is a type of insurance policy that offers complete shield in contradiction of fire-related hazards. This policy protects your household or property in case of a fire outbreak. It covers the losses that may incur during a fire or the cost of repair or replacement. The limits are set under the fire insurance policies.
The left as side sector which we do not speak about much is sea transport. Since ages sea transportation has been the most favorite even in the existence of road, rail or air. WE have larger transaction through ships. All these perils give rise to the requirement for marine insurance.
Marine insurance is not just a protection for the ship but for the cargo that is carried along.
Commercial General Liability Insurance
Commercial General Liability Plan offers a shield against obligation claims arising due to injuries or damages that might incur to the property.
Office Package Policy
There might be a lot of disruption that may occur at your office or business place. To protect your office premises or its structure from unseen circumstances one needs to opt for an office package policy.
Shop Insurance
A shop insurance policy is specifically designed for small and medium-sized shop owners to provide cover against damage or loss of the structure of the shop and its contents.
Director and Officers Liability Insurance
Directors and officer's liability insurance is a type of liability insurance catering to directors and officers of an organization, or to the organization(s) itself. It offers a reimbursement in case there are any losses or advancement of defense costs if the insured faces any loss due to any legal action against alleged unethical or wrongful acts. The coverage includes defense costs resulting from any criminal and regulatory investigations as well as trials. Most of the criminal and civil actions are taken simultaneously against directors and officers. Although, intentional illegal activities, are not generally covered under directors; officers liability plans.
It is associated with wider management liability insurance, as it provides coverage for the liabilities of the company or the personal liabilities of the directors and officers of the company.
Erection All Risk Insurance
Installation of machinery or equipment always entails a risk of loss or damage. Such eventualities can put a break in implementation, cause financial burden and leave you feeling you have no control.
The Erection All Risk (EAR) insurance covers loss or damage to projects that involve erection/installation of plant, machinery, and equipment ranging from creation of a single machine to a large power plant. It protects a contractor or employer against physical loss or damage to the contract works, construction plant and equipment or machinery. It also includes cover for damage to property of third parties and bodily damage to third parties.
Contractor All Risk Insurance
This plan bids satisfactory and comprehensive exposure against harm or loss in respect of construction plant, contract work, construction machinery, and/or construction machinery/equipment.
Other Business Insurance Policies
Also known as the group health insurance plan, this plan insures all the employees and their immediate family members (parents might not be covered depending upon the insurer and the plan) against medical expenses. This policy is designed such that it provides compensation to the immediate family members in case of death due to accidents and also covers the expenses for unforeseen situations.
A Group Life Insurance policy is a single contract for a large or small group. In general terms, the employer opts for such a policy for his/her organization which provides coverage to its employees. Group life insurance policies deliver life insurance shield to a group of people. Since these policies are taken for a group of people, thus they are available at a bare minimum cost.
This is one of the types of Mediclaim policy under business insurance. Under this policy, the expenses for unpredicted situations such as accidents are covered. Also, this plan provides compensation to the immediate family members in case of accidental death (similar to group mediclaim).
This plan covers bodily injury caused by accident during the course and scope of employment. It also covers death or temporary disablement, permanent or partial disablement, legal costs/expenses incurred with the company's consent.
Fire & Burglary
Expenses incurred due to loss or damage of property because of fire breakdowns are covered under this plan. There are few plans which also cover loss or damage caused to property owing to natural perils such as floods, storms and earthquakes.
Apart from this, in case of theft, this plan provides the expenses and also covers valuable collectables, cash and jewellery.
Loss or damage of goods incurred during the transit is covered under this plan. It generally covers transit damage caused due through the post, courier and railways. In addition to this, it also covers damages due to roadways, sea routes and air routes.
How to File a Business Insurance Claim?
It is the responsibility of the insured to notify the insurance company if any accidents or any events occur which requires a claim at the earliest. In case of crime such as vandalism, the insured must reach out to the law enforcement team. Once the necessary teams are contacted,
It is the sole responsibility of the insured to take regular follow-ups from the insurer to know the status of the process.
Once the above process is done (as per the situation), an adjuster from the insurer examines the claim. If the adjuster finds that the case is genuine, then he checks for the policy terms and conditions. Once the insured is proved to be eligible for the claim process, the amount is paid to the insured
Inclusions and Exclusions of Business Insurance
Following are the inclusions and exclusions of Business Insurance:
The plan covers property due to fire or natural disasters such as flood, earthquake, storm etc. It also covers liability arising out of negligence and errors
The plan covers the loss due to theft
The business insurance plan covers third-party liability on the business
The plan covers the death or injury of an employee during the course of the insured's work.
There are few perils that the insurer does not cover under this plan. Those include:
Nuclear hazards
Wear and tear, power failure
Military action
Different types of pollution
Illegal activities performed by the insured
Governmental actions
Explosion of machinery
Action due to law enforcement
Tips to Lower your Business Insurance Premium
Following are the tips to lower the business insurance premium:
Cut Unnecessary Coverage – Choose wisely depending on your business needs
Look for Package Deals – Find package deals which ensures finest coverage at best prices
Raise Your Deductible – By increasing the deductibles you can lower the cost of the premium
Reduce Your Risk – Take proper measures to lower the risks associated with the business. Since, higher the risk factor, more would be the changes in your coverage
Shop Around – Don't rely on a single insurer or plan, check the various policies or insurers by comparing their quotes online. This will help you to pick the best at the best prices.
How much small business insurance per month costs?
What is covered by business insurance.
The business insurance covers the following that adds value to your money and keeps your business insured:
Damage to the property due to fire or natural calamities such as earthquake, storm etc.
Loss or damage due to theft
Covers the loss of profits after an outbreak of a calamity
Injury/death of an employee during the course of the employment
Covers third party liability on the business
Liability arising out of negligence & errors
Where can I get Business Insurance for my small business?
Business insurance faqs.
Most frequent questions and answers about Business Insurance FAQs
Buying insurance for your business could be interesting only in the event you follow the right process. All you need to do is go online visit the portals or go offline visit the agents. Check in the plans offered by the insurance company and which is reliable with your business. Hence lastly, once you have opted for the best suitable plan for your business you go and pay the premium.
General Liability Insurance: Every business, even if it is a home-based business, you need to have obligatory insurance. The policy offers both guard and compensations if you, your employees or your goods or facilities cause or are supposed to have caused Bodily Injury or Property Damage to a third party.
Business insurance is non-compulsory, and some are only optional for certain types of businesses. While business insurance is not required by law, a property and fatality insurance policy is highly recommended for all business owners.
Here is some business insurance that is in place as per business requirement:
Professional liability insurance
Property insurance
Workers' compensation insurance
Home-based businesses
Product liability insurance
Vehicle insurance
Business interruption insurance
Commercial General Liability Insurance (CGL) defends your professional business against any liability arising from third-party for bodily injury or property harm and personal injury caused to them.
CGL covers a wide range of liability loss that a company is exposed to throughout the everyday sequence of business; acting as the foundation for most of the companies' liability programs.
Other Corporate Insurance
Architects and Engineers Insurance
Art Insurance
Auto Component Manufacturer Insurance
Bankers Indemnity Insurance
Carrier Legal Liability Insurance
Chartered Accountant Insurance
Contractors All Risk Insurance
Crime Insurance
Cyber Crime Insurance
Director and Officer Liability Insurance
Doctor's Indemnity Insurance
Educational Institution Insurance
Errors & Omissions Insurance
Export & Import Insurance
Fire Burglary
Freight Forwarders Insurance
GMC & GPA Insurance
Group Hospital Cash Insurance
Group Employees Deposit Linked Insurance
Group Gratuity Insurance
Group Superannuation Insurance
Gym and Health Club Insurance
Industrial All Risk Insurance
Jewellers Block Insurance
Keyman Insurance
Lawyers Insurance
Motor Fleet Insurance
Multimodal Transport Operator Insurance
Product Liability Insurance
Professional Indemnity Insurance
Public Liability Insurance
Restaurants Insurance
Shopkeepers Insurance
Title Insurance
Trade Credit Insurance
Transit Insurance
Corporate Insurance
Health Insurance
Life Insurance
Two Wheeler Insurance
Car Insurance
Term Insurance
Personal Accident Insurance
Contractors All Risk Inssurance
Director and Officer liability Insurance
Group Mediclaim Insurance
Fire & Burglary Insurance

Commercial Insurance in India: Coverage, Claim and Exclusions
Commercial insurance or business insurance is a type of insurance that covers risks related to any business. There are various kinds of insurance policies available in the market to help different businesses get financial coverage for various business risks. It could be insurance for a shop, mall, factory, warehouse or a vehicle.
Table of Contents:
Types of Commercial Insurance
Claim process, important aspects, what is commercial insurance.
Commercial insurance offers protection to businesses from any unforeseen issues. Some of the most common insurance policies are shopkeepers' insurance , warehouse insurance, transit insurance, product and public liability insurance, employee liability insurance, marine insurance, property insurance and many more. These policies provide a safety net to business owners in case of any problem.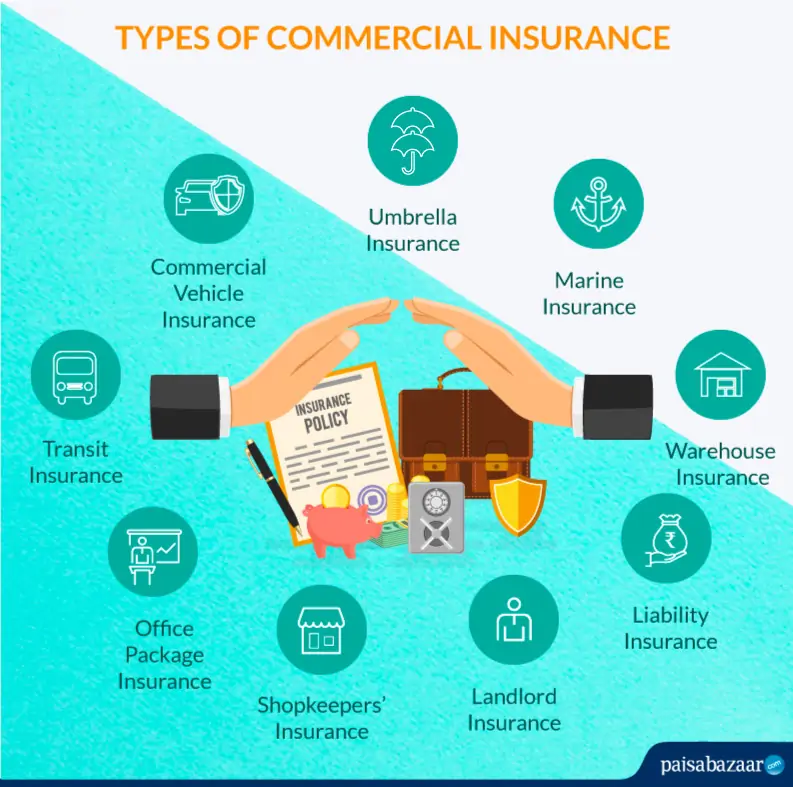 Let us look at some of the types of commercial insurance available in India that can help minimise and handle various risks related to businesses.
1. Shopkeepers' Insurance:  Shopkeepers' insurance policy is an ideal choice for retail shopkeepers dealing in grocery, apparels, small restaurants, sweet shop, etc. The comprehensive policy covers all the risks and contingencies faced by small or mid-sized shop owners. It covers the losses related to following issues: • Fire & Allied Perils • Burglary and housebreaking • Machinery breakdown • Personal accident
2. Transit Insurance:  When valuable business goods are transported from one location to another, for example, from supplier's factory to the retail outlet, you should consider transit insurance to cover any loss due to damage or loss of the consignment. The responsibility of taking the transit insurance policy must be determined in the sales contract, and the insurance must be taken well before goods leave the supplier's premises. Transit insurance only applies to the goods transported over land. Following are the goods which are covered under transit insurance:
• Packaging material • Manufactured goods • Raw materials
3. Commercial Vehicle Insurance :  Vehicle owners who are in the business of transporting passengers or goods must take commercial vehicle insurance that covers the commercial vehicle against various types of external damage. Some of the important features of commercial vehicle insurance are: • Death or bodily injury caused by the use of the vehicle • Any damage to the property because of the use of the vehicle
4. Liability Insurance :  This policy offers protection to businesses and individuals from risk that they may be held legally and liable for, especially in the case of hospitals and business owners. For example, a factory owner may face a liability claim from the employees who gets electrocuted inside the factory. The employee liability insurance may help in such a situation and handle the treatment costs along with legal costs, if any arise.
5. Warehouse Insurance:  Businesses in which majority of the functions are dependent and happens in multiple warehouses may consider buying a warehouse insurance. It covers natural calamity, fire and similar unforeseen situations. Moreover, you can get the compensation against human-made hazards like theft and burglary.
6. Marine Insurance :  When goods are shipped to international destinations through the sea, it undergoes several changeovers. It travels by rail, road, water and perhaps airways as well. It also changes many hands before it reaches the final destination. The shipowners take Hull and Machinery insurance to protect the ship's basic structure and machinery. The cargo owners take marine cargo insurance to protect the consignment under transit. The marine policy may cover specific time-frame or the voyage or both. Make sure to strike the correct balance between adequate coverage and reasonable insurance premium to avail optimum coverage for your cargo.
7. Office Package Insurance :  This type of insurance protects one's office and everything under the roof, including the infrastructure. It offers protection to the office premises, in case of any damage due to fire, theft, burglary, earthquake, etc. It also provides personal accident coverage. One should understand all the points that are included and excluded in the policy. For instance, the policy does not cover any problem arising due to illegal activity or war-like situation.
Coverage under Commercial Insurance
Various types of commercial insurance offer coverage for various cases and situations. Let us understand some types of coverage provided by various insurance companies.
Home insurance covers the house and the content inside the structure
Group health insurance covers medical expenses during hospitalisation
Liability insurance covers costs of lawsuits and other damage to person or property due to your business, profession or vehicle
Transit insurance offers coverage for loss or damage to any cargo during transportation
The above mentioned list is not limited to these points. The complete list is available on the official website of various insurance companies.
In case of any unforeseen damage, you need to immediately inform the insurance company about the eventuality through its 24/7 insurance helpline. You should be aware of the claim process and follow it properly in order to avoid any claim rejections. However, the claim process and the documents required vary for different insurance companies and plans. Here is a basic understanding of how to go about the claim process.
Inform the insurance company, if you need to make the claim
Provide the details like policy number and other documents, including duly filled in claim form
Provide the witnesses, proofs, FIR copy, medical reports, etc., as per the requirement of the type of your insurance plan
On receiving the documents, a surveyor from the insurance company will verify all the details
If accepted, the claim is processed within the stipulated time, else it might be rejected
Exclusions under Commercial Insurance
While offering coverage, insurance companies do not include all cases and situations. The damage and loss that are not covered by the insurance firms are called exclusions. There are different sets of exclusions for different insurance types and plans. The list mentioned here does not include all the exclusions . To know them in detail, please visit the official website of that particular insurance provider.
For any insurance policy, any regular wear and tear or wilful negligence is not covered
Any loss due to war or war like perils is not covered
Companies Offering Commercial Insurance Plans in India
With more awareness, an increasing number of people are now considering buying various types of commercial insurance for their business needs and requirements. Some of the companies selling different types are:
• HDFC ERGO • New India Assurance • Bajaj Allianz • Bharti AXA • United India Insurance • ICICI Lombard • TATA AIG
Not all insurance companies provide all kinds of insurance policies and the coverage varies from company to company. According to your need, make sure to examine all terms and conditions of the insurance policy that suits your specific business needs. Some of the points to be considered are:
Make sure not to underestimate the valuation of the property under insurance. You may save a few hundred rupees but may land up in huge losses in case of an unfortunate event
Make a complete declaration of the nature of your business, your perceived risk and probable causes of loses. The insurance company may reject your claim, if significant information is not disclosed or misrepresented while taking the policy
Avoid exaggerated or false claims, as it can result in denial of the insurance. The serious misleading claims are considered fraud, and the insurance company may file police complaints against such an act
Advantages of Commercial Insurance
To safeguard your business and property from any unseen circumstances and to handle the associated financial risks, it makes sense to opt for commercial insurance. Some of the advantages are:
If you are running a company or owning an office, you would need insurance to protect your premises and employees. For this, you can select the appropriate type of commercial insurance for yourself. This protects you from all possible financial risks
In case your business deals with commercial vehicles, you cannot ignore commercial vehicle insurance. This gives you a chance to manage the heavy costs incurred in case of any accident or eventualities
In case your profession or business happens to deal with clients or third party, a liability insurance under commercial insurance is a must in order to manage the losses and any costs for legal issues
Q1. How can I cancel commercial insurance policy?
Policyholders can cancel commercial insurance policy within 15 days from the date of receipt of policy document until and unless no claim has been made during the policy period.
Q2. Is it mandatory for me to have commercial insurance for my business?
No. While it is not mandatory to have an insurance for your business, it is highly recommended to provide proper protection from any unforeseen circumstances.
Q3. What are the different modes of payment for premium amount?
Customers can opt for Online as well as Offline mode for premium payment. Through online mode, individuals can pay the premium through-
Credit Card
Net Banking
ECS and others
On the other hand, through offline mode customers are required to visit the nearest branch and pay the premium amount through cash.
Q4. Can Commercial Insurance be purchased online?
Yes, customers are required to visit the official website of the insurer and purchase the insurance products through online payment.
Q5. How many insurance companies in India offer Commercial Insurance?
Some of the major insurance companies in India are:
New India Assurance
Bajaj Allianz
Q6. What is the renewal process for commercial insurance?
Customers can get their policy renewed through visiting the official website of the insurance provider and enter the user name and password for login. After this, make payment for the premium amount. You will receive the notification regarding the successful renewal of the policy on registered mobile number and E-mail ID.
Q7. What is not covered under Marine Insurance?
Mentioned below are the situations where coverage is not offered under marine insurance:
General leakage or wear and tear of cargo
Removal of wreck
Poor packaging of cargo
Damage caused due to war
Q8. What are the benefits under shopkeeper's insurance?
There are multiple benefits offered under shopkeeper's insurance. Some of the benefits include-
Coverage for loss or damage caused due to fire and burglary to building
Coverage for loss or damage caused to building due to housebreaking
Legal liabilities to employees

No relevant search results found.
Popular searches
Continue from where you left of

FOR EXISTING POLICY
Have query on premium, payout or any servicing need.

Monday - Saturday | 10 am - 7 pm IST
Call charges apply
Dedicated NRI Helpdesk:
FOR NEW POLICY
Want to buy a new policy online.
Give missed call for a call back:
Monday - Sunday | 8 am - 11 pm IST
Exclusively for NRIs:
Monday – Sunday | 9 am – 9 pm IST
Give missed call for a call back:
Tata AIA 7% Digital Discount Sampoorna Raksha Supreme
Tata AIA New SRS Vitality Protect
Tata AIA Maha Raksha Supreme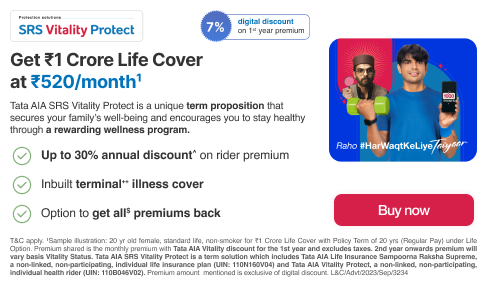 Tata AIA Best Seller Guaranteed Return Insurance Plan
Tata AIA 2% Digital Discount Fortune Guarantee Supreme
Tata AIA Smart Income Plus
Tata AIA Fortune Guarantee
Trending Param Rakshak (Return of Premium)
Best Seller Param Rakshak Plus
Tata AIA Fortune Pro
Tata AIA Wealth Pro
Tata AIA Best Seller Fortune Guarantee Pension
Tata AIA Saral Pension
Tata AIA Pro-Fit
Tata AIA Smart Health
Up to 20% discount on Term Plan
Up to 20% discount on Savings Plan
Tata AIA 7% Digital Discount SRS Vitality Protect
New InstaProtect Solution
Tata AIA Saral Jeevan Bima
Tata AIA Bharat Suraksha Cover Micro Insurance Plan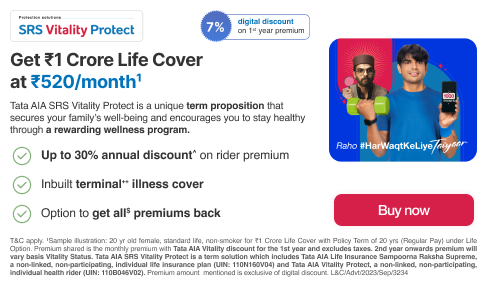 Tata AIA Best Seller Fortune Guarantee Plus
Tata AIA 2% discount for women Fortune Guarantee Supreme
Tata AIA Guaranteed Return Insurance Plan
Tata AIA Smart Value Income Plan
Tata AIA Diamond Savings Plan
Tata AIA Gold Income Plan
Tata AIA Money Back Plus
Tata AIA Mahalife Gold
Tata AIA Value Income Plan
Tata AIA Guaranteed Monthly Income Plan
Tata AIA POS Smart Income Plus
Tata AIA Most Popular Smart Sampoorna Raksha
Tata AIA Smart Sampoorna Raksha Plus
Tata AIA Fortune Maxima
Tata AIA Wealth Maxima
Tata AIA i Systematic Insurance Plan
Most Popular Param Rakshak Plus
Param Rakshak II
Param Rakshak III
Param Rakshak (Return of Premium)
Tata AIA New Fortune Guarantee Retirement Ready
Tata AIA Saral Pension Plan
Tata AIA Smart Annuity Plan
Tata AIA New Pro-Fit
Tata AIA Smart Health Shield Plan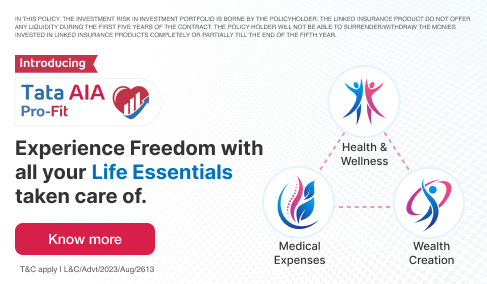 Tata AIA New Group Micro Raksha Supreme
Tata AIA Group Loan Protect
Tata AIA Group Term Life
Tata AIA Group Sampoorna Raksha
Tata AIA Group Employee Benefit Plan
Tata AIA Traditional Group Corporate Benefit Plan
Tata AIA Employee Benefit Traditional Plan
Tata AIA POS Saat Saath
Tata AIA Saat Saath
Tata AIA Vitality Protect
Tata AIA Vitality Health
Tata AIA Non Linked Comprehensive Protection rider
Tata AIA Non Linked Comprehensive Health Rider
Tata AIA Accidental Death and Dismemberment (Long Scale) (ADDL) Rider
Tata AIA Waiver of Premium Plus (WOPP) Rider
Tata AIA Vitality Protect Plus
Tata AIA Vitality Health Plus
Tata AIA Waiver of Premium Plus (Linked) Rider
Tata AIA Waiver of Premium (Linked) Rider
Tata AIA Linked Comprehensive Protection Rider
Tata AIA Accidental Death and Dismemberment (Long Scale) (ADDL) Linked Rider
Tata AIA Linked Comprehensive Health Rider
Tata AIA New Sampoorna Health
Tata AIA New OPD Care Rider
New Capital Guarantee Advanced Solution
Capital Guarantee Solution
Tata AIA Secure Insurance Plan
Most used Term Insurance Calculator
Most used ULIP Calculator
Saving Calculator
Retirement and Pension Calculator
New Income Tax Calculator
Most used Child Expense Calculator
Compound Interest Calculator
Retirement Calculator
Human Life Value Calculator
Home Budget Calculator
Travel Cost Calculator
Wedding Budget Calculator
Startup Valuation Calculator
Crorepati Calculator
Dream Car Calculator
Investment Target Calculator
Healthcare Cost Calculator
EMI Calculator
BMI Calculator
Cost of Delay Calculator
Online Premium Payment
Set Standing Instruction
Cash or Cheque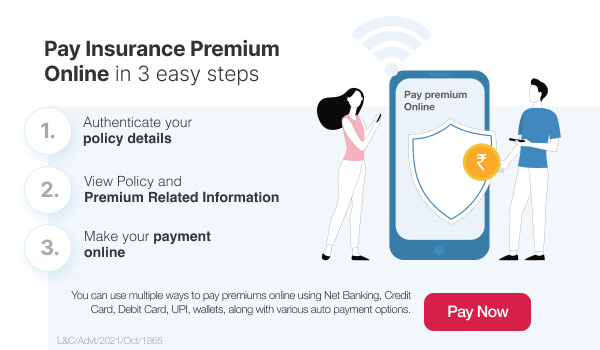 Premium Certificate
Unit Statement
Account Holder Statement
Policy Document
Premium receipt
Unsolicited Communication
Service TATs
Voice of Happy Customers
Register/Download ABHA
Unclaimed Funds
View Fact Sheet
Bonus and Dividend Performance
Bonus History
Application Form
Withdrawn Products
Update Mobile Number
Update Email Id
Update NEFT
Unclaimed fund
Electronic Insurance Account
Switch fund ULIP
Raise service request
Claim Status
Application Status
Track your service request
Connect with us
Branch locator
Our Identity
Our Products
Awards and Recognition
Press Release
Our Culture
Corporate Social Responsibility
Articles & Blogs
Calculators
Tata AIA's Exclusive Insurance Platform for Small & Medium Businesses.
Quick & Customised Insurance Solutions for SMEs by Tata AIA Life Insurance
Introduction
As the owner of a small-to-medium enterprise (SME) , your business needs to be secure and protected against any future losses. This not only includes the well-being of your business but also that of your employees as well as their families. With Tata AIA Life Insurance, you can now get tailor-made solutions to protect your small-to-medium business in different ways. The URJA application by Tata AIA Life Insurance provides unique insurance solutions for SMEs by offering quick digital insurance assistance and access to their business insurance policy details right at their fingertips. Be it working capital loan, employer-employee insurance or keyman insurance, get customisable business insurance solutions for your business!
Salient features of URJA Digital Application
With the URJA app, you can make the most of the following features:
Digital Assistance on URJA
Know more about your business insurance policy and find out how URJA can help you grow your business with digital solutions.
Choice of Insurance Plans
Choose from keyman insurance, employer-employee insurance, and partnership insurance and protect your family's interests under the Married Women's Property Act (MWPA) to get access to the Urja App.
Life Cover for Small Group
With employer-employee insurance, you can offer life insurance coverage for one or more of your employees, securing their lives and their family's needs.
Immediate Access to Policy
Access your digital insurance policy on the URJA application anytime and from anywhere so that you can always stay connected with your business.
URJA App is your Life Insurance
Partner in your business growth, urja app is your life insurance .

Download URJA App
Dreams come in all sizes. And we cover them all.
URJA BENEFITS AT A GLANCE
Protect your business.
Get keyperson insurance for the business proprietor now and secure the future of your business!
Keyman Insurance protects your business from future liabilities arising from eventualities.
Secure Your Workforce
With just a few clicks, keyperson insurance can cover one or more employees for affordable premiums.
With keyman insurance, your workforce can be more productive and motivated, leading to more business growth and higher retention.
Boost Your Venture
Your personal life insurance policy can help you avail of an instant business loan!
Make the most of low-interest rates to take your business to the next level without the stress of paying high EMIs.
Instant Insurance Quote
Download our 'URJA' app and get immediate quotes to cover your employees.
Securing small and medium businesses can now be easily achieved with a few clicks!
Need assistance in choosing the right plan?
Speak to our financial advisor
TATA AIA Life Insurance Co. Ltd will send you updates on your policy, new products & services, insurance solutions or related information. Select here to opt-in

Insurance Simplified for Business Owners
Getting insurance for your business is important – no matter how small or grand the venture! Here is how you can protect your business against any eventuality:
Keyman Insurance
Keyperson insurance secures the main stakeholders of a business, such as business partners, directors of a private or public company or key employees to ensure business continuity in case of any eventuality.
Employee Insurance
Employee insurance secures employees of small and medium-scale businesses to ensure their family's needs are always met. One or more employees can be insured under this policy.
Family Protection Insurance
(Under the MWP Act)
The Family Protection Insurance can be availed by a married male business owner who wants to secure his wife and children's financial future by making them the undisputed nominees of the insurance benefits.
Product Descriptions
Securing your business is just as important as securing the future of your family. With keyman insurance, business owners can protect their family, business and employees under a single insurance plan where they can cover financial losses and debts in case of the insured individual's untimely and unfortunate demise.
What is a Keyman Insurance?
A keyman insurance or keyperson insurance is a type of life insurance solution that protects businesses, their owners and other key stakeholders of the venture. Under keyperson insurance, the insured is a business owner or one of the main stakeholders. Hence, in case of this individual's untimely demise, keyman insurance covers the future financial losses that the business or the company may have to go through.
Who should avail of Keyperson Insurance?
Keyman insurance secures:

Business Partners
Company Directors
Other key managerial personnel/employees/decision makers/stakeholders who aid the company's growth
How can a Keyperson Insurance benefit your SME?
Keyman insurance benefits your business in the following ways:
Securing your business during uncertain events
Insures your business from the start with a small investment
Makes your business more credible to potential banks, investors and lenders
Helps earn the goodwill of employees and vendors
Offers tax benefits 3 under Section 37(1) for the policy premiums paid *
Financial security for your family if you, as a business owner, are insured.
Employee insurance is not only important for your business but is also essential for the employees. With affordable premiums, you can secure one or more of your employees!
What is Employee Insurance?
Employee insurance enables employers to protect their employees against uncertainties. The employer purchases the policy on behalf of the employees and pays the policy premiums, which will secure them. These are some of the important features that employee insurance offers to the employees:
Offers immediate life cover without a waiting period.
Financially secures your family members.
Helps build a retirement corpus for the future.
Greater security with no premium payments.
Who should avail Employee Insurance?
Employee insurance is important for:
Sole Proprietors
Partnership Firm or LLP Firm
Company (Public/Private) Management
How can Employee Insurance benefit your SME?
Here is how employee insurance can help your SME:
Boost employee motivation & productivity
Lead to an increase in employee retention
Increases customer satisfaction & investor confidence
Easy loans available on investment products bought under Employer Employee to fulfil your working capital needs.
What Is Family Protection Business Insurance (Under MWPA)?
The Family Protection Business Insurance, also known as MWPA insurance, is an ideal insurance solution that helps the insured's wife and children get undisputed access to the policy benefits at no additional cost . A married man who is a resident of India can purchase a life insurance policy under this Act to protect the financial future of his wife and child/children.
Who should avail Family Protection Insurance (Under MWPA)?
Family Protection Insurance (under the MWPA) is important for:
Self-employed Professionals
How can Family Protection Insurance (Under MWPA) benefit your family?
Family Protection Insurance (Under MWPA) protects your family in the following ways:
Gives your wife and children sole and complete rights to the insurance benefits
Secures the wife and children's interests from creditors, parents, siblings, and any court of law among others
Protects the family from financial distress like outstanding debt, litigations, family feuds, etc.
Disclaimers
3 Income Tax benefits would be available as per the prevailing income tax laws, subject to fulfillment of conditions stipulated therein. Income Tax laws are subject to change from time to time. Tata AIA Life Insurance Company Ltd. does not assume responsibility on tax implication mentioned anywhere in this document. Please consult your own tax consultant to know the tax benefits available to you.
* Sole Proprietors get only 80C benefit as an individual for themselves. They cannot claim section 37(1) benefit for themselves.
Insurance cover is available under this product. For more details on risk factors, terms and conditions please read Sales Brochure carefully before concluding a sale.
The products are underwritten by Tata AIA Life Insurance Company Ltd.
The plans are not a guaranteed issuance plan, and it will be subject to Company's underwriting and acceptance.
L&C/Advt/2023/Aug/2585
Looking to buy a new insurance plan?
Existing customer?
New user? Our experts are happy to help.
Thank you for sharing your details.
Our representative will contact you soon.
Latest Blogs
Child's Future
Pay Premium
Maturity And Survival Benefit Claim
Chat Support
Pay First Premium
Download Premium Receipt
Download Policy Document
Manage Fund
View/Edit Policy Details
Top Up Policy
File a Claim
Track Policy Application
Unclaimed Policy holder Data
Turnaround Times
Download Forms
ONLINE INSURANCE
Child Plans
CHILD INSURANCE
Aviva Young Scholar Secure
TERM INSURANCE
Aviva Signature 3D Term Plan
Aviva Protection Plus
Aviva jana suraksha, aviva saral jeevan bima plan, retirement plans.
Aviva New Innings Pension Plan
Aviva Annuity Plus
Aviva Saral Pension Plan
GROUP INSURANCE PLANS
Aviva Group Micro Insurance Plan
Aviva Pradhan Mantri Jeevan Jyoti Bima Yojna
Aviva Pravasi Bhartiya Jeevan Bima Yojan
Aviva New Group Term Life
Aviva Group Credit Life
Aviva Corporate Life Plus
Aviva New Corporate Life
Aviva Credit Assure
Aviva Group Gratuity Advantage
Aviva New Group Leave Encashment Plan
Aviva New Traditional Employee Benefit Plan
Aviva Credit Suraksha
Aviva Group Life Protect
STRATEGIC INITIATIVES
Guaranteed Savings Plan
Aviva Signature Guaranteed Income Plan
Aviva Nivesh Bima
Aviva New Wealth Builder
Aviva New Family Income Builder
POS Aviva Dhan Suraksha
Aviva Affluence
Aviva Signature Investment Plan - Limited Pay
Aviva Signature Investment Plan
Aviva i-Growth
Aviva Fortune Plus
PAY PREMIUM
Quick Links
Branch Locator
Policy Reactivation
Become an Advisor
Become Business Development Manager
Register on whatsapp
View Fund Details
Aviva Corporate Shield Plus
Gratuity Leave Encashment
Rural/credit protection.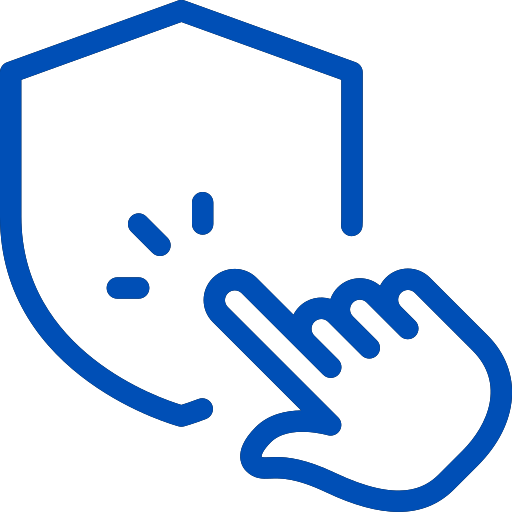 A tool that guides you to financially secure your business and nurture it as an asset.
AN: Mar 36/22.
The SME World
Small and medium enterprises in India are among the biggest employment generators in our country. With their agility and dynamism, SMEs' have the potential to make India the superpower of 21st century. At Aviva, we work constantly to support the businesses that are a part of India's growth story, and to give their employees financial inclusion and security.
Aviva-CII partnership
Aviva and CII have joined hands to address one of the fastest growing sectors in the Indian economy – SMEs. The alliance between these two stalwarts was signed and sealed at the Global MSME Summit, Mumbai on 22nd November 2016. This partnership will enable them to reach over 1.5 million SMEs across India and play the role of thought leaders in an arena that needs earnest attention.
The key purpose of this alliance is to help create awareness amongst the SME community about how they can safeguard and strengthen their businesses in a planned and structured manner. Aviva has designed Business Protection propositions to address the multi-pronged roles played by an SME, such as a Business Owner, Employer and the Head of his family. With the aim to offer dedicated financial advice, Aviva will undertake a series of activities - webinars, road shows, on-ground outreach programs, social media campaigns, etc across India and reach out to SMEs.
ARN: Feb 18/17
From the day an entrepreneur starts a business, he exposes himself to certain risks. He juggles multiple roles, has different challenges and goals; be it for business, for his employees or his family. At Aviva, we have solutions for your needs that work in your favor and for your business security.
Be unstoppable in securing your business
There are Key Employees who significantly influence the profits for you. Protect these profits now!
Your business is mostly dependent on the success of your key employees. A sudden loss of any of these key employees could pose a significant financial impact on your business.
Keyman insurance helps to manage these risks and ensures the company has sufficient funds to keep the business going in the short term before a successor takes charge.
Keyman insurance is taken by a business for its own benefit. All the premiums are paid by the business & the business is eligible for all the policy proceedings
A keyman is a person whose talent, contacts, goodwill etc a business is thriving on
The key persons can be chief executive, key employee, directors, project specialists, operations head etc
Any pure term insurance plan can be bought under Key person insurance
The premium paid towards Key Person Insurance or Keyman Insurance is treated as a valid business expense
Connect with Expert
Partnership
Business Partners & shareholders are the backbone of your business. Protect them for the continuity of your business.
When you and your business partners have put so much into your own business, it's important to think about the company's future and your dependents' security, in the event death of any of the business partners.
Partnership Insurance Policy is taken by a partnership firm on the life of partners with the objective of protecting the deceased partner's shares in the company.
Partnership insurance is taken by a business for its own benefit. All the premiums are paid by the business & the business is eligible for all the policy proceedings
In case of the unfortunate demise of any partner, the death claim amount is paid to the partnership firm
The firm can use the death claim to buy out the deceased partner's share in case his/her family is not willing to continue with the business
Any pure term insurance plan can be bought under partnership insurance
The premium paid towards Partnership Insurance is treated as a valid business expense
Wealth Protection
We work hard to earn money. Our money too should work for our prosperity!
Every businessman needs money to grow his business, secure the future of his family etc. While we save & invest money to fulfil all the desires, we expect our investment to grow too and be available when required.
Investment oriented insurance plans provide the opportunity to create wealth for the future along with a comprehensive life cover.
Traditional life insurance plans with guaranteed or non-guaranteed returns
Unit Linked Insurance Plans give the flexibility to make your own investment decisions for long term growth
Combination of multiple policies to suit your investment objectives for specific life goals
Supplementary Income
Supplement your income & keep the income flowing even in uncertain times
Aviva offers an attractive opportunity for supplementary income by becoming a Financial Planning Advisor. As a Financial Planning Advisor, you can help people plan & protect their finances better and also create a sustainable source of income stream for yourself.
Opportunity to add significantly to current income
Platform for recognition by becoming a member of the elite council of financial professionals like MDRT & Blue Riband(Aviva)
Professional guidance to enhance your Knowledge, Skills, Attitude & Habits for you to be successful
Be unstoppable in caring about your employees
Employer – Employee Insurance
Employees are an asset. Protect them to retain them.
Industrialist Andrew Carnegie has rightly said: " Take away all my factories and my equipment . Take away my wealth. But leave me with my key people and in a short time I'll have it all back again ."
The employer – employee schemes are meant for employee welfare wherein the ultimate beneficiary is employee or his/her family. Such initiatives may help reducing attrition for the business and promote employee satisfaction. This cover can be extended to some select or all employees.
The plan may work as an acquisition & retention tool for employer
Benefit for the Employee / Employees' Family
Premiums paid treated as a valid business expense
Secure employees' future
Gratuity payment is a statutory obligation for an employer towards the employees who render services for a continuous period of at least 5 years, upon separation because of resignation, retirement or death. Gratuity is a defined benefit and is one of the many retirement benefits offered by the employer to the employee. Insurance companies can make it convenient for you by helping you create and manage a corpus to meet the Gratuity liability mandated by law.
As per Payment of Gratuity Act, 1972, gratuity is payable when an employee completes 5 or more years of full time service with the employer
Gratuity proceeds are tax-free in the hands of employees up to Rs. 10 Lakh
Gratuity Contribution & payouts are eligible for Tax benefits as per prevailing laws, which are subject to change
Employee Deposit Linked Insurance Scheme
Social security net for the family of employees
EDLI is a statutory benefit to be given by an employer to the employee covered under the Employees Provident Fund. Insurance companies offer Group Insurance in lieu of EDLI to enable employers provide higher amount of cover for the employees.
In case of unfortunate event of employee's death, the sum assured is paid to the employee's family.
The premium towards the coverage are paid by the employer
All the employees enrolled in the EPF scheme gets registered for EDLI as well
Premium paid by the employer is treated as business expense
Be unstoppable in taking care of yourself and your family
Your family is your most valuable asset. Protect them by creating an encumbrance-free asset for them!
You have a distinct role as the head of a family and you would want to secure the well being of your family, as long as they live. You can and you do create separate assets to meet the objective but these could be exposed to the creditors in case of an eventuality.
It is possible to ensure an asset created for your family is encumbrance free and cannot be parted by your creditors in difficult times. An insurance policy bought under MWPA (Married Women's Property Act) creates financial security for your wife and/or children. All the policy proceeds are for the exclusive benefit of the chosen beneficiary only, and cannot be attached even by creditors under a court decree.
As per section 6 of the Married Women's Property Act (MWPA), 1874:
An estate can be created exclusively for the benefit of the wife or children or both through a life insurance policy
All kinds of life insurance plans like protection, saving and investment can be bought under MWP Act
All the policy proceeds are for the exclusive use of the chosen beneficiary
As the primary earning member you always wanted to make sure that your family is happy; not as long as you live, but as long as they live.
A term insurance plan ensures that your family is secured and leads a comfortable life in your absence
Term Plan covers death due to any reason
Buying Term Plan under MWPA will keep it safe from Creditors, if any
Eligible for Tax benefits as per prevailing laws, which are subject to change
Every child has a genius in them. As a parent we need to ensure that money doesn't come in the way of realizing their true potential.
Child plans help protect child's education milestones financially even if the insured parent is not around.
Payouts for key education milestones
Waiver of future premiums in case of death of insured parent to secure the benefits
Buying Child Plans under MWPA will ensure benefit is paid to the child only
Health Plans
Today's lifestyle has made us vulnerable to critical illnesses at very early stage of life. The cost of procedure & treatment of such illnesses may lead to a serious dent to our savings.
Health Plans from a Life Insurance company pay a lump sum that can be used for treatment and for other expenses during the recuperation period.
Lump sum payout on diagnosis of covered illness / condition
This payout will be in addition to any claim received from other mediclaim policies or health insurance
Eligible for Tax benefits as per prevailing laws, tax laws are subject to change
NEWS & MEDIA
Image gallery.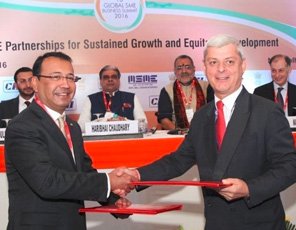 Video Gallery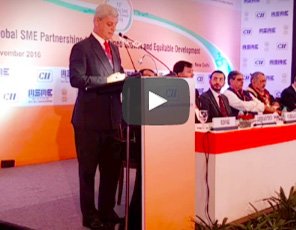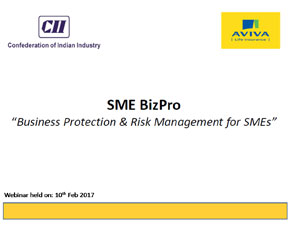 We are always there to assist you
Marsh.com Login
Please log in to access the full marsh.com site.
Click here to login as colleague
Argentina(Español) (Spanish)
Australia(English) ()
Austria(English) ()
Österreich (Deutsch) ()
Azerbaijan(English) ()
Bahrain(English) ()
Belgium(English) ()
Belgique (Français) ()
België(Nederlands) ()
Botswana(English) ()
Brasil (Português) ()
Bulgaria(English) ()
Canada(English) ()
Canada (Français) ()
Chile(Español) (Spanish)
China(English) ()
China(Chinese) ()
Colombia(Español) (Spanish)
Croatia(English) ()
Cyprus(English) ()
Czechia(English) ()
Czechia(Czech) (Czech)
(English) ()
Denmark(Danish) ()
República dominicana(Español) (Spanish)
Egypt(English) ()
Estonia(English) ()
Fiji(English) ()
Finland(English) ()
France(English) ()
France (Français) ()
Germany(English) ()
Deutschland (Deutsch) ()
Hong Kong SAR China(English) ()
Hungary(English) ()
Hungary(Hungarian) (Hungarian)
India(English) ()
Indonesia(English) ()
Ireland(English) ()
Israel(English) ()
Italy(English) ()
Italia(Italiano) ()
Japan(English) ()
Kazakhstan(English) ()
Kazakhstan(Kazakh) (Kazakh)
Kazakhstan(Russian) (Russian)
Latvia(English) ()
Lithuania(English) ()
Luxembourg(English) ()
Luxembourg(Français) ()
Malaysia(English) ()
Malawi(English) ()
Mexico(Español) (Spanish)
Morocco(English) ()
Namibia(English) ()
Netherlands(English) ()
Nederland(Nederlands) ()
New Zealand(English) ()
Nigeria(English) ()
Norway(English) ()
Oman(English) ()
Panamá(Español) (Spanish)
Papua New Guinea(English) ()
Perú(Español) (Spanish)
Philippines(English) ()
Portugal(English) ()
Poland(Polish) ()
Portugal (Português) ()
Puerto Rico(Español) (Spanish)
Puerto Rico(English) ()
Qatar(English) ()
Romania(English) ()
Romania(Romanian) (Romanian)
Singapore(English) ()
Saudi Arabia(English) ()
Serbia(English) ()
Slovakia(English) ()
Slovakia(Slovak) (Slovak)
Slovenia(English) ()
South Africa(English) ()
South Korea(English) ()
España (Español) (Spanish)
Sweden(English) ()
Taiwan(English) ()
Taiwan(Chinese) ()
Thailand(English) ()
Tunisia(English) ()
Turkey(English) ()
Turkey(Turkish) ()
Uganda(English) ()
Ukraine(English) ()
United Arab Emirates(English) ()
United Kingdom(English) ()
United States(English) ()
Uruguay(Español) (Spanish)
Vietnam(English) ()
Venezuela(Español) (Spanish)
Zambia(English) ()
Small Business Insurance
Dedicated to serving the insurance needs of corporate and small commercial organizations in Asia; helping you secure your future.
All companies need advisers they can trust to put their best interests first.
As a global leader in insurance broking and risk management, Marsh has a deep understanding of the entire risk market and a clear and balanced view of the most competitive risk and insurance coverages available. Our job is to negotiate the best solutions on your behalf.
Marsh has designed risk and insurance solutions for corporate and small commercial businesses that are comprehensive, cost-effective and easy to arrange.
We have leveraged our global and regional resources, our experience, and our relationships with reputable and professional insurers so that, regardless of the size of your organization, you have access to market-leading insurance solutions, customized to meet your needs.
Having the right insurance program in place gives you the peace of mind to concentrate on running your business and expanding its success.
Let Marsh help make your life easier.
Assess your risks
Our free assessment tools can accurately analyze your business risks and insurance needs. All it takes is a few minutes.
Marsh Risk Explorer Compact
Uncover risks that pose a threat to your business
Marsh Corporate Insurance Survey
People risk assessment, protect your business risks.
Marsh has ready-tailored insurance solutions to protect your small business, each supported by a team of product experts.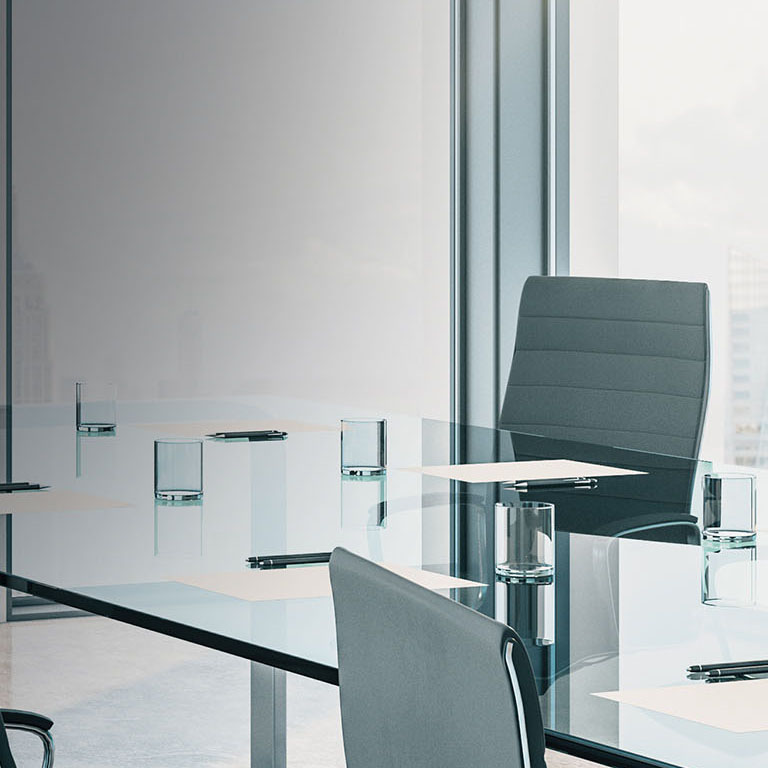 Directors and Officers Insurance for Companies in Asia
D&O insurance protects your company through indemnification should your directors and officers be found liable for legal misconduct, errors, and allegations.
India Portfolio Solutions Brochure
For more information about our business insurance solutions.
Related articles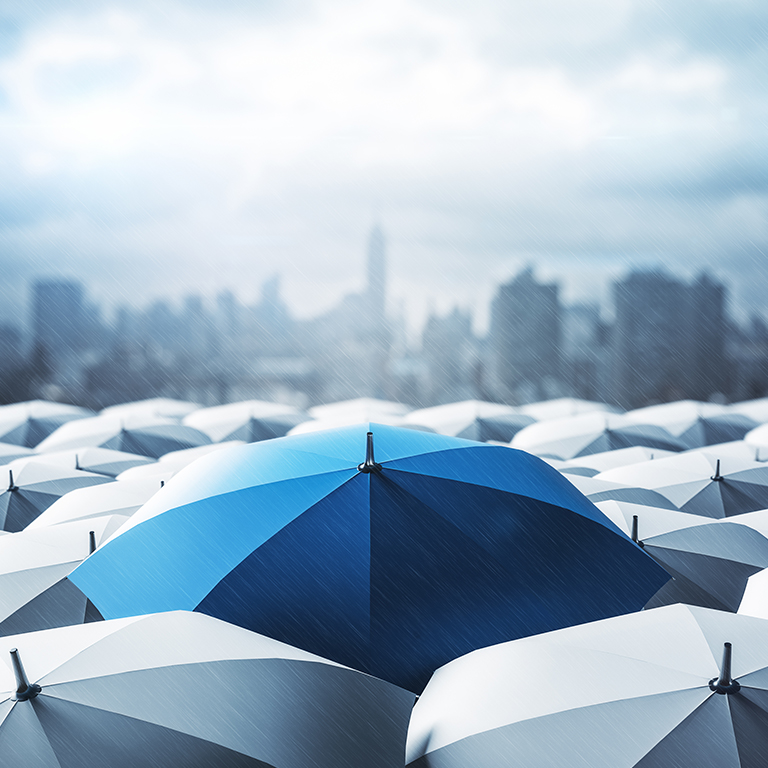 How the Average Clause affects your business insurance coverage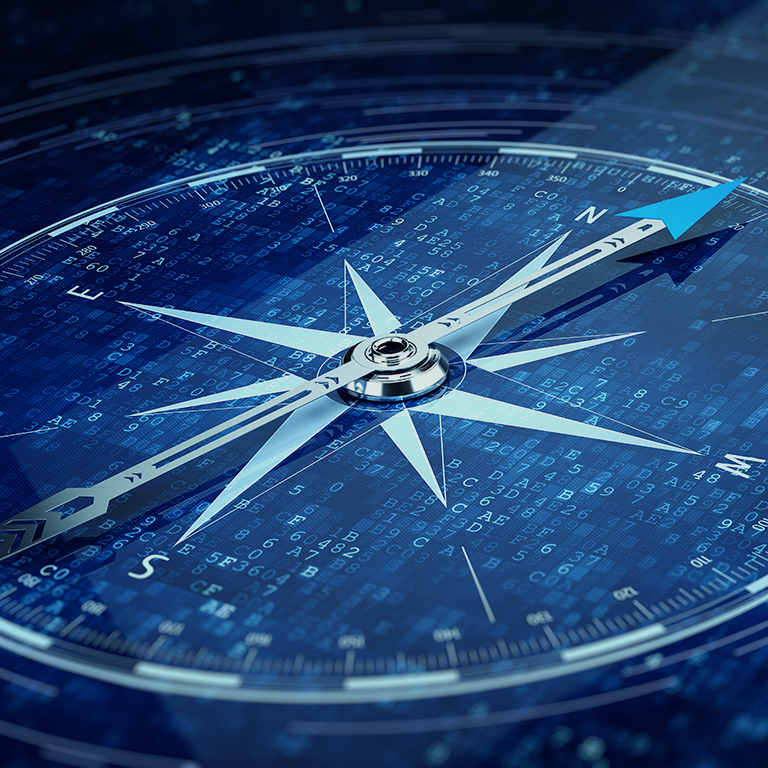 4 key lessons on managing business risks in Asia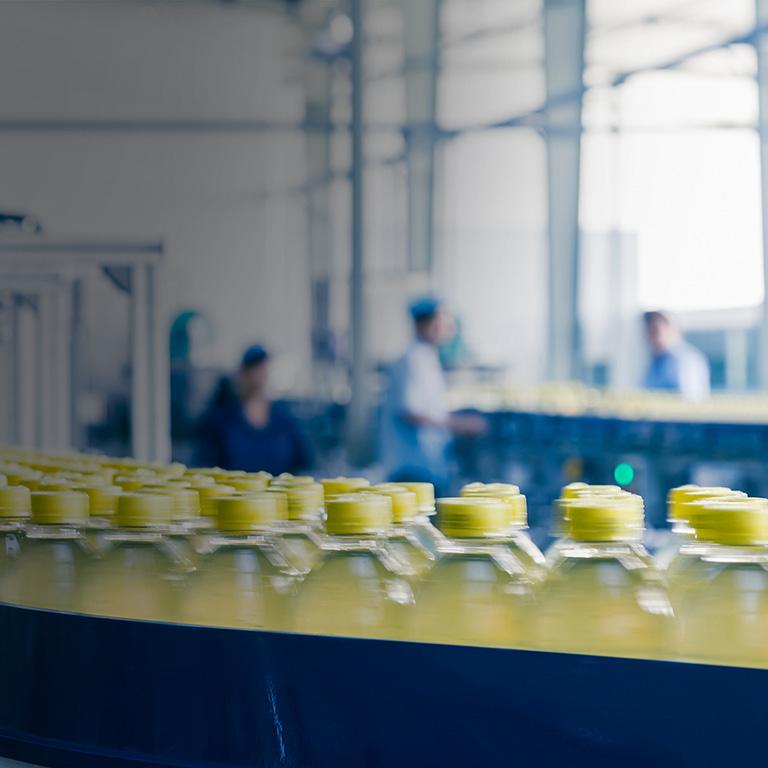 Optimize the Cost of Risk to Protect against Business Interruption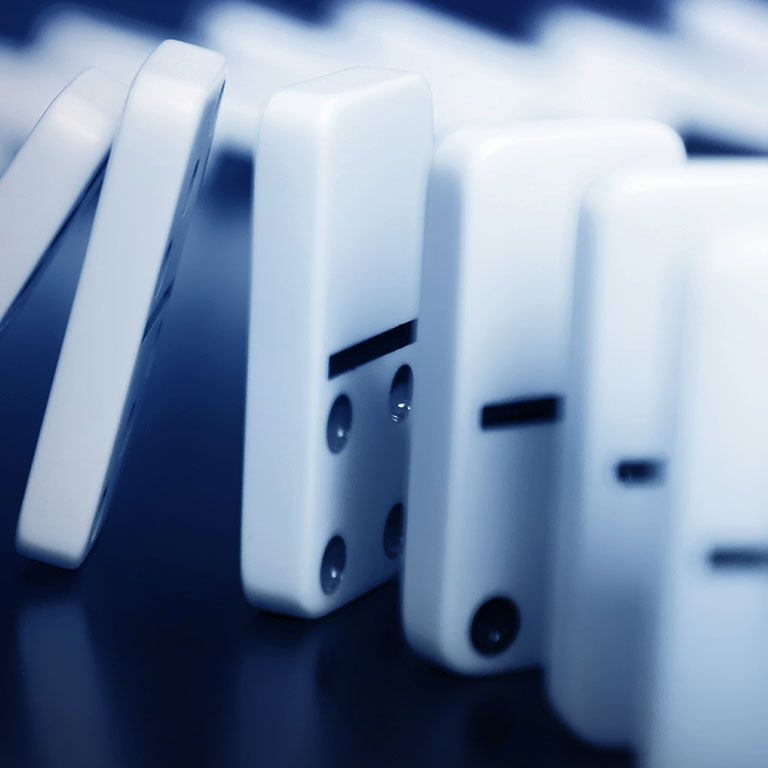 Business Continuity Planning: How companies in Asia can better prepare for unexpected crises
Why Business Continuity Plans Fail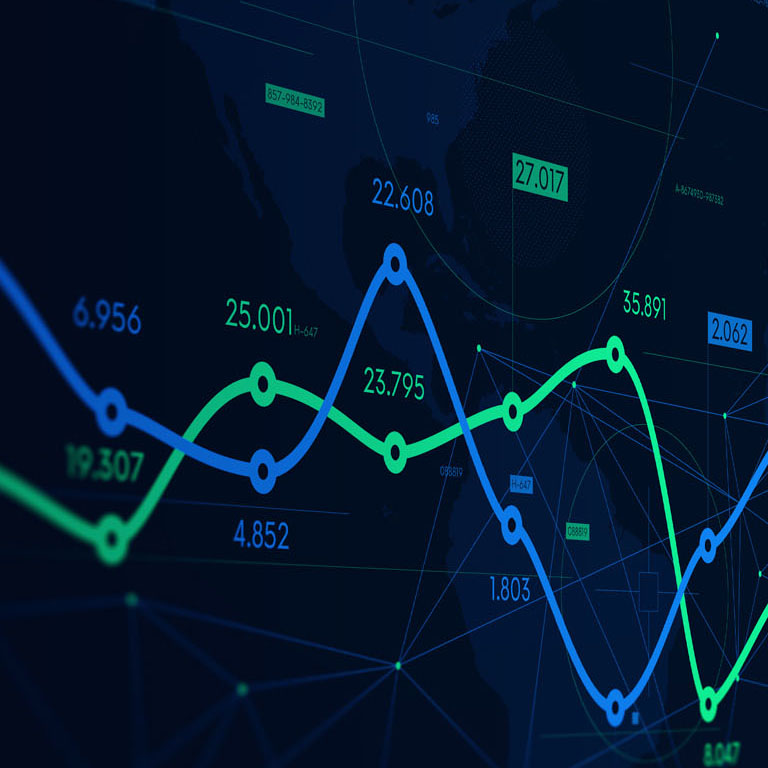 Trade Credit
Why do i need insurance for my small business.
As a small business owner in [country], you are responsible for the well-being of a range of people, from employees to customers. Your business activities can affect your key stakeholders in serious and costly ways, and the financial consequences of a mishap can wipe out your assets. A proper insurance solution can protect you financially against unforeseen damages and give you peace of mind.
Are there insurance policies that cater to small businesses?
The most common types of insurance are already packaged under a business owner's policy – property damage, business interruption, computer/electronic equipment, money, fidelity guarantee, worker injury compensation, and public liability. You may also want to consider a financial lines policy (directors and officers liability, professional indemnity and cyber and data protection) to safeguard your balance sheet and reputation.
Does a small business owner need a directors & officers liability (D&O) policy?
A D&O policy fills the gap that general insurance does not cover when protecting you, your small business, and your directors and officers from the costs of lawsuits and investigations brought by regulatory authorities, clients, creditors, competitors, employees, investors, lenders and suppliers.
Why do small businesses need cyber and data protection?
Data breaches and cyberattacks are rising, and attackers are using the same tactics against big and small businesses. This means that a small business faces the same threats and risks without a big budget for a robust security program. While risk management can minimize the extent to which an attacker moves through your environment and mitigate the damage should an attack occur, a cyber and data protection policy can cover the financial impact of a cyberattack.
What does a small business insurance policy cover?
You can tailor your policy to your business's needs. Below is a list of possible coverages in [country]:
Property Damage: For accidental physical loss or damage.
Business Interruption: For losses from an interruption to your business caused by Property Damage.
Computer / Electronic Equipment: For losses from material damage, costs of reinstatement of data, and other additional expenses.
Money: For loss of money kept on your premises or in transit.
Fidelity Guarantee: For loss of money or property due to fraud or employee dishonesty.
Work Injury Compensation: For compensation to your employees from bodily injury, illness, disease, or death caused by accident arising out of, and during, employment.
Public Liability: For your legal liability, costs, and expenses against third parties.
Marine Cargo: For your goods against damage, destruction, or pilferage during transit.
How do I file a claim?
Contact your risk advisor with your claim details in case of a claim. A claims specialist will then manage the claims process on your behalf.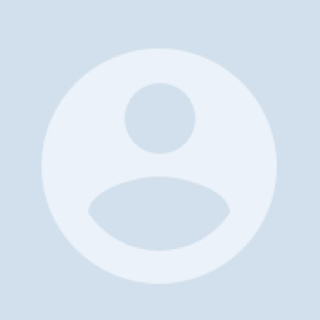 Prakash&nbspRajan
Sales Leader
Disclaimer: Marsh India Insurance Brokers Pvt Ltd is a subsidiary of Marsh McLennan .
Marsh India Insurance Brokers Pvt. Ltd. having corporate and the registered office at 1201-02, Tower 2, One World Center, Plot-841, Jupiter Textile Compound Mills, Senapati Bapat Marg, Elphinstone Road (W), Mumbai 400 013 is registered as a composite broker with Insurance and Regulatory Development Authority of India (IRDAI). Its license no. is 120 and is valid from 03/03/2021 to 02/03/2024. CIN: U66010MH2002PTC138276.
Business Insurance Simplified
Protect your business from the SME specialist.
Managed over 3,00,000 claims!
Helping smes buy the best insurance policy.
Don't get lost in the endless list of insurance plans. With reliable insurance broking services from certified experts, get end-to-end support in buying business insurance. From helping you compare small business insurance plans to offering free quotes for business insurance, the team at PlanCover assures to exceed your expectations and deliver you 100 percent satisfaction.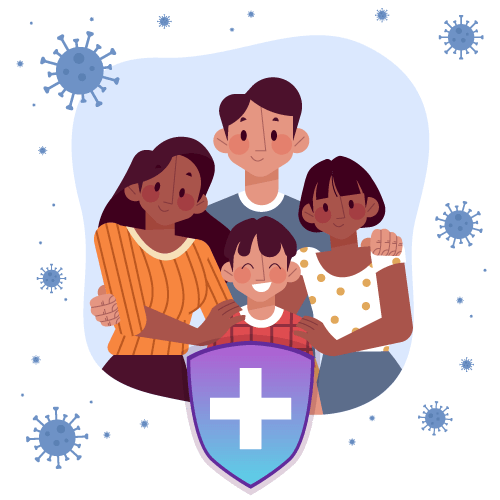 Protect your family against Coronavirus
COVID-19 has brought a paradigm shift in people's mindset. Coronavirus has led to an increased awareness amongst people about the importance and benefits of health insurance during a pandemic situation like COVID-19.
PlanCover will help you choose the best plan for you and your family while we continue our fight with the COVID-19.
Why PlanCover
India's #1 Insurance Marketplace that's trusted by thousands of business owners. There are many reasons why we stand as the most preferred broking partner when it comes to buying business insurance plans
Commitment to Help Small Businesses
Technology deployment for business administration of insurance policies with login access and claim support.
Strong Relationships With The Insurers
Access to all top-ranked insurance companies for best price and have access to the best products.
World Class Dedicated Support ( 24 * 7 )
24*7 call center support for policy issuance & claim servicing who handled more than 3,00,000 claims.
Expert team of certified brokers
Get help in buying small business insurance from highly qualified experts.
End-to-end solutions
From buying SME insurance to renewing existing plans, enjoy comprehensive support.
100% satisfaction guaranteed
Services tailored to your needs, assuring you of a satisfying experience.
Don't take our word
What do our clients say about us?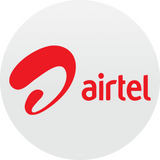 Jayant Khosla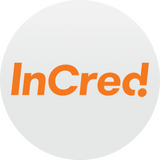 Abhisheik Kangotra
Arafat hasan, nand sharma.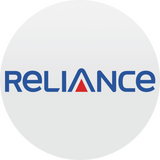 Deepak Sharma
A trusted partner to the best

This enables us to provide better opportunities to business owners looking to buy business insurance. On the back of our reliable network, deep relationships and a proven track record, discover better business insurance plans at the right price from some of India's leading business insurance companies
FAQ's About Insurance and PlanCover
Wondering if insurance brokers are regulated and can they get better rates for you? Check our FAQ's below
PlanCover is one of the leading insurance marketplaces in India. Built by HII Insurance Broking Services Pvt. Ltd. (HIBS), a highly renowned insurance broker, PlanCover helps business owners and individuals discover better insurance policies, including group health plan, at the right price and make informed purchase decisions.
We have a large team of licensed insurance brokers that enables us to offer end-to-end services. If you're looking to buy insurance, we're here to help you with the entire buying process, ensuring you have the right assistance and support throughout to find, understand and buy the best insurance plans that provide adequate coverage at a low cost.
We focus on small and medium-sized businesses. However, over the last 10 years, we have also worked with many large organizations and legacy brands.
Yes, insurance brokers, and the whole industry, is regulated by the Insurance Regulatory and Development Authority (IRDA) of India. You should always ensure the insurance broker you're working with has the right IRDA license.
Yes, insurance brokers can get you better deals on policies like group health insurance, professional indemnity insurance, commercial general liability insurance, and more.
At PlanCover, we have strong ties with some of India's leading insurance companies, including TATA AIG, Reliance General Insurance, Birla Sun Life Insurance, Bajaj Allianz, ICICI Lombard, Exide Life Insurance, Bharti AXA, and more. This provides us access to the best insurance products from top insurers at the best price.
There are a few insurance brokers who extend their services to also provide help with claims. At PlanCover, we have managed over 3,00,000+ claims to date.
Insurance brokers work for the individual or business owner who has hired them. They provide assistance to the individual or business owner in buying insurance policies. Based on your needs and requirements, they will recommend you the right insurance plan from the right insurer without any bias.
In contrast, insurance agents (who are often confused with insurance brokers) work directly for insurance companies. They would recommend you policies of the insurance company they are working for.
Buying an insurance policy can be a challenge. There are many things that need to be considered to find a good insurance plan that provides you sufficient coverage at a competitive rate. This is why it's usually recommended to consult insurance brokers and get their help. Insurance brokers can help you discover better plans from top insurers and even customize the plan to best suit your needs and budget. These insurance brokers can make a big difference in ensuring you have the right coverage at the right price.
Yes! To date, we have helped thousands of SMEs and startups buy the best group health insurance policy from top carriers. If you're looking to buy a group insurance plan, contact us for a free quote.
At PlanCover, in our commitment to deliver clients the best experience, we cater to all kinds of insurance needs. So, whether you're looking to buy a group health policy, CGL insurance, professional indemnity insurance, errors and omissions insurance, or anything else, our team of licensed insurance brokers has got you covered. We can provide to SMEs complete support irrespective of the kind of business insurance policies they are looking to buy.